April 7, 2011
Street banners get a second life as tote bags
by Anne Krapfl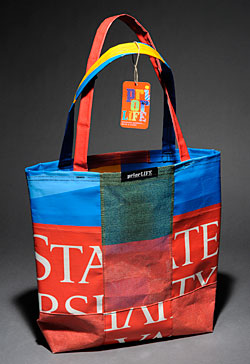 Photo by Bob Elbert.
They're new -- well, sort of -- but vaguely familiar.
To save you some brain racking, we'll tell you up front: The colorful vinyl Iowa State tote bags that arrived this week in the University Book Store are made from retired banners that once adorned the median on University Boulevard.
It's one way the office of University Marketing office can participate in Live Green efforts, said Marcia Anderson, project coordinator. Wind, sun, moisture and repeated use take a toll on the vinyl banners and eventually they wear out, she said.
This winter, Iowa State sent 91 old banners from University Boulevard, plus the two oversize Live Green banners that hung in 2008 on the east side of Beardshear, to Traverse City, Mich.
That's where priorLIFE, a subsidiary of banner giant Britten Inc., created the bags. You may recognize Iowa State's multi-language welcome banners, blue/red welcome banners or Live Green banners in any of the bags.
This label is sewn into each tote bag:
In my prior life, you may have seen me as a banner on a building or on a light pole on University Boulevard at Iowa State University in Ames, Iowa. When I retired, the Office of University Marketing recycled me into this tote bag, a one-of-a kind piece of university history.
priorLIFE says each of its products is unique, created randomly from a banner or banners. At last count, the company estimated it would create about 330 totes from Iowa State's 93 banners.
The tote's dimensions are 17 by 14.5 by 4.5 inches. It'll retail for $29.99 and the net profit from each bag will be returned to the university's banner program.
"We expect them to be popular. Each one is a unique piece of university history," Anderson said.
Bookstore marketing manager Amy DeLashmutt said the bookstore expects to sell the totes into student orientation in June, as long as there are bags remaining.