March 24, 2011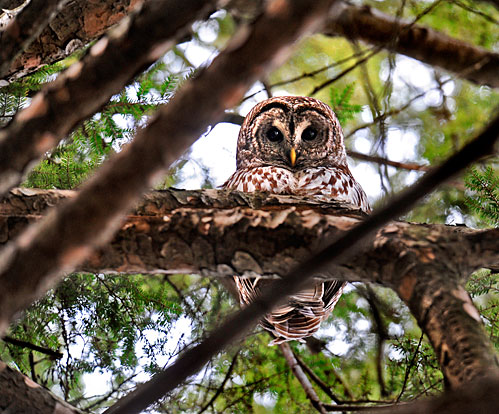 Photo by Bob Elbert.
Wise one chooses ISU
by Diana Pounds
Spring brought something special to those who hang out around Curtiss Hall. Several weeks ago, a barred owl took up residence in a tall tree on the east side of the building.
Employees who are lucky enough to have east-facing windows are enjoying close-ups of the big bird, who often perches just 15 feet away. Prime spectating spots are on the first or second floors of Curtiss, depending on the owl's choice of limb.
Beth Weiser, a program assistant in agriculture and life sciences administration, said visitors from other parts of campus are dropping by Curtiss to check out the owl.
Not quite so enamored with the newcomer are resident crows, which can be seen and heard harassing the creature, Weiser said. Unruffled, the owl has retained its spot among a grove of Canadian hemlock trees for five to six weeks. Owl gazers should look for the tallest tree in the grove that sits between the main part of Curtiss and its connecting semicircular auditorium. The grove is on the north side of the connection.
'Who cooks for you?'
Wildlife extension specialist Rebecca Christoffel said the Iowa State campus is a perfect habitat for barred owls, who prefer floodplain areas. She reports the owl's song sounds something like this: "Who cooks for you? Who cooks for you? Who cooks for you ... all?"
This
YouTube video
shares an up-close look at a barred owl vocalizing in a forest.