Feb. 24, 2011
Teams envision a greener Iowa State at sustainability symposium
by Anne Krapfl
Replay
Most sessions of the 2011 sustainability symposium were videotaped and will be available on the symposium website soon.
A learning community, of sorts, on sustainability for faculty. Half as many campus parking spaces 10 years from now. Awareness of local foods and modified expectations about seasonal foods. Such were the nuggets to emerge from a visioning session during Iowa State's third annual symposium on sustainability Feb. 21-22.
Visioning sessions -- separate ones for and led by faculty, staff and students -- were a new component of the symposium this year. The teams were asked to envision what sustainability looks like at Iowa State in the future and suggest practical ways to get there.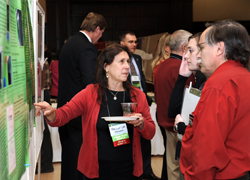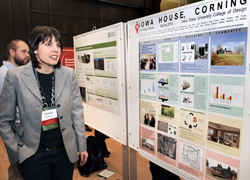 During the symposium luncheon, Live Green Awards were presented to Rebecca Shivvers (top), a program coordinator in the materials science and engineering division of the U.S. Department of Energy's Ames Laboratory, and Nadia Anderson (above), assistant professor of architecture. Shivvers was recognized for a number of earth-friendly initiatives at Ames Lab, including a setback mode for fume hoods not in use, poster and cardboard recycling, replacing or retiring 70 CRT computer monitors, and shutting down unused computer clusters during city peak electric alerts. Anderson was recognized for a studio course she developed that focuses on affordable, energy-efficient, single-family housing. Photos by Bob Elbert.
Student session
The student discussion included using social media to make students more aware of green programs on campus as well as suggest changes they can make personally for a more sustainable lifestyle. A large number of College of Design students in the discussion talked about setting up a redistribution network for leftover art materials in the design center, rather than throwing leftovers in the trash. And the student team also talked about promoting an awareness and appreciation for local foods and seasonal meal plans.
"For example, we can get Iowa strawberries in June, but in December, they're coming from California," said senior Chandra Peterson, who facilitated the discussion with Government of the Student Body sustainability director Matt Santee. "So we wouldn't expect to eat strawberries in December."
Peterson said a special task force within the GSB umbrella will pursue the ideas developed during the visioning session.
Staff session
The staff discussion, facilitated by facilities planning and management project manager Kerry Dixon-Fox, focused on ways to share good strategies across campus, low-cost or no-cost opportunities for energy savings and resource conservation, and what Iowa State might look like in 2021. The talk included incentives for bus ridership to decrease the demand for parking lots and return some lots to green space, retrofitting buildings with energy-efficient windows and lights, and appointing a sustainability "guru" in every department or unit to provide local leadership and encourage behavior changes. Dixon-Fox said staff also talked about the importance of thanking employees "for doing the right thing."
Faculty session
The faculty discussion focused on ways to connect people, projects and best practices around campus, and to share ideas and practices related to teaching and research in areas of sustainability. Professor of geological and atmospheric sciences Cinzia Cervato reported on the discussion. Ideas included:
Integrating interdisciplinary sustainability concepts in the curriculum better
Encouraging research that leads to transformed lifestyles (Who/what funds such research?)
Capturing student awareness and interest in sustainability to bring about change
Establishing a faculty network for sharing, either informal (a learning community) or more structured (a sustainability research center)