Dec. 2, 2010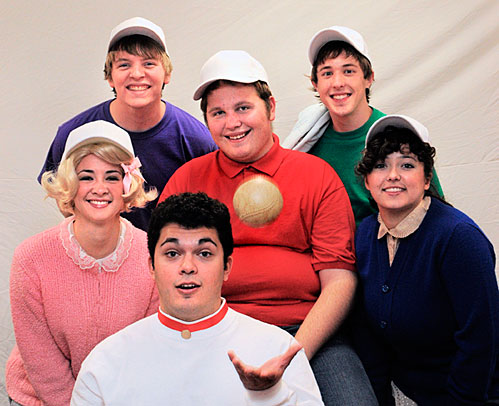 ISU Theatre stages You're a Good Man, Charlie Brown at Fisher Theater beginning Friday evening at 7:30 p.m. Pictured are (front) Michael Reza; middle row, left to right: Megan Maller, Joseph Smith; and Deanna Martinez; back row: Ethen Peterson and Mitchell Nieland. Photo by Patrick Gouran.
ISU Theatre lightens up with You're a Good Man, Charlie Brown
by Paula Van Brocklin
Just in time for the holidays, ISU Theatre will stage the light-hearted, family-friendly musical comedy, You're a Good Man, Charlie Brown, written by Clark Gessner and based on the Peanuts comic strip by Charles Schultz. Performances are in Fisher Theater at 7:30 p.m. Dec. 3, 4, 10 and 11; 1 p.m. Dec. 5; and 2 p.m. Dec. 12.
The simple plot revolves around Charlie Brown as he tries to figure out what it means to be a good man. Through various scenarios, including a book report on Peter Rabbit and the guidance of five friends, Charlie Brown discovers the answer by the end of the show. Fifteen musical numbers punctuate his journey.
"It's a sweet but thoughtful story," said Jane Cox, professor of theater and the show's director.
While the Peanuts cartoon is based on the everyday antics of a group of quirky kids, adults typically play the characters in the stage production.
"There is no attempt to make them little kids," Cox said. "Snoopy is an adult, too. He's not costumed as a dog."
Cast members are freshmen Joseph Smith (Charlie Brown), Megan Maller (Sally) and Ethan Peterson (Schroeder); sophomore Mitchell Nieland (Linus); and seniors Deanna Martinez (Lucy) and Michael Reza (Snoopy).
Tickets, $18 for adults and $11 for students, are available at Ticketmaster, the Iowa State Center ticket office or at the door.