Dec. 2, 2010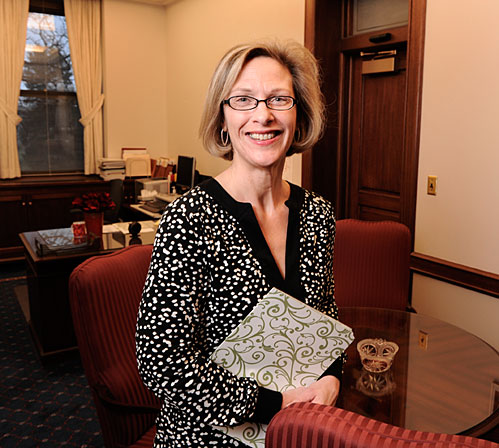 Photo by Bob Elbert.
Welcome
Ann McCarthy is the university's new state relations officer, effective Nov. 22. She serves as Iowa State's primary public affairs and legislative contact, at the direction of the state Board of Regents. McCarthy served briefly this fall as administrative specialist for executive vice president and provost Elizabeth Hoffman.
Before coming to Iowa State, McCarthy was a senior research analyst for the Iowa House of Representatives (2003-10), with expertise in K-12 and higher education policy, budget and legal issues. She also served as the legislative liaison for the Iowa Department of Education (1995-2003) and as a legislative analyst for the Iowa Senate (1990-95). She earned a bachelor's degree in distributed studies from Iowa State and a law degree from Valparaiso University, Indiana.
McCarthy succeeds Andy Baumert, who resigned in September to become director of marketing and public affairs for the Iowa Association of Independent Colleges and Universities, Des Moines.
McCarthy's campus office is in 1750 Beardshear; her phone is 4-4941.