Nov. 11, 2010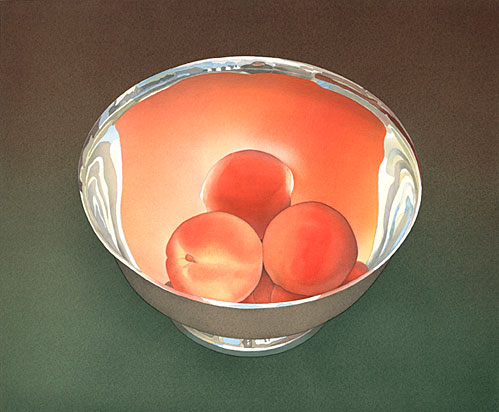 Mark Adams, Peaches in Silver Bowl, 1993, Lithograph, silkscreen. Submitted photo.
Gallery Walk marks reopening of the Brunnier
by Paula Van Brocklin
The Brunnier Art Museum and store are open and ready for business.
After eight feet of floodwater inundated the lower level of the Scheman Building Aug. 11, the Brunnier Art Museum and store were closed while repairs and mold mitigation took place throughout the building. No artwork was damaged in the flood and the museum was not directly impacted by the water, but the battle to prevent mold from taking over Scheman raged on for nearly three months. The mold lost the battle, and the Brunnier and its store reopened Nov. 2.
University Museums will mark the Brunnier's reopening with a free, public gallery walk at 2 p.m. Sunday, Nov. 14. Dorothy Witter, assistant education specialist and security officer for the Brunnier, will lead the 45-minute tour. Visitors will view and discuss three exhibitions of realistic art prints currently on display in the museum -- "N. C. Wyeth: America in the Making" from the museum's permanent collection; "The Observant Eye" by Beth Van Hoesen; and "Translation of Light" by Mark Adams. Additional prints depicting 1930s American scenes by various artists, including Grant Wood, also will be part of the tour. The exhibitions originally had been installed for an August opening, but were removed during and following the flood.
During the walk, visitors will learn how the printmaking process has evolved between the Depression of the 1930s and today. Discussion also will focus on how the artists' images, though created decades apart, are interrelated.
"All the prints are very realistic, very narrative, very introspective," said Lynette Pohlman, director of University Museums. "You get a sense of the artists and their psychology."
The Brunnier Art Museum and store are open Tuesday through Friday, 11 a.m. to 4 p.m., and Saturday and Sunday from 1 to 4 p.m. Both facilities are closed on Mondays and holidays.