Nov. 11, 2010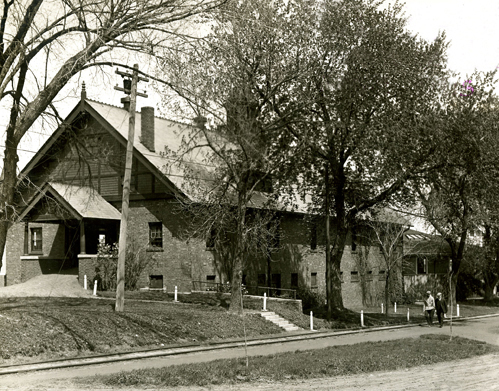 Landscape Architecture Building, circa 1913. The sycamores, as small saplings, can be seen in the foreground. Photo courtesy of the ISU Library/Special Collections Dept.
Trees with a story to tell
by Paula Van Brocklin
The Dinkey, a steam locomotive that took faculty, staff and students from Iowa State to downtown Ames, operated from 1891 to 1907. It was replaced by an electric trolley in 1907, which continued through 1929 when passenger rail service between campus and Ames stopped with the advent of automobiles. However, the tracks remained in place through the late 1930s. Remnants of the cinder path that ran parallel to the Dinkey line survived well into the early 1990s, when it was asphalted.
You've probably walked past or driven by Sycamore Row a hundred times and never knew it existed. It's a stretch of 42 100-year-old sycamore trees that runs parallel to what used to be the old Dinkey rail line. The first batch of trees starts near the Landscape Architecture Building and continues east along a path that runs past the Lied Center, CyRide and the ISU soccer complex. The trees continue across University Boulevard near Brookside Park, and end at Squaw Creek.
Thanks to the efforts of Deb Cooper, a graduate student in landscape architecture, Sycamore Row is getting more attention these days, both locally and nationally.
The trees tell a story
Cooper first learned about Sycamore Row in 2008 while on a plant walk for one of her landscape classes. A self-professed lover of "big, old trees," Cooper was intrigued by the sycamores and wanted to learn more. Later the same day, as chance would have it, she received an e-mail seeking nominations for The Cultural Landscape Foundation's (TCLF) annual "Landslide" photography exhibition, which showcases at-risk landscapes. It was a sign. Cooper felt she was called to tell the trees' story.
What's the risk?
Cooper said Sycamore Row's greatest threat is people not knowing it exists, and, therefore, not caring for the trees.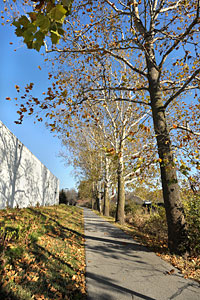 A stretch of Sycamore Row as it looks today, just south of the CyRide facilities. Photo by Leah Hansen.
"The trees are in danger because they are not being managed," she said. "There are a lot of volunteer [trees] in the wooded areas that are encroaching in their space. We need to take care of them."
Staff in facilities planning and management, which is responsible for the care of campus trees, are aware of Sycamore Row and its historical significance. Shrinking budgets play a key role in shaping their work plans from year to year.
Fruitful effort
Cooper's research and effort to tell the trees' story paid off. Sycamore Row is included in TCLF's 2010 "Landslide: Every Tree Tells a Story" traveling photography exhibition. The show, which features 25 images of 12 different at-risk landscapes in the United States and Puerto Rico, opened Nov. 4 at Aljira, a Center for Contemporary Art, in Newark, N.J. The show runs through Jan. 8, 2011. The exhibition also will be on display at the Philadelphia International Flower Show, March 6-14, 2011, and at the LongHouse Reserve in New York, April 4, 2011.
Cooper is thrilled that her nomination of Sycamore Row was selected for this year's "Landslide" exhibit. But to her, it's all about the trees.
"I'm just happy the trees are getting recognition, making people aware of them," Cooper said. "They're part of our history."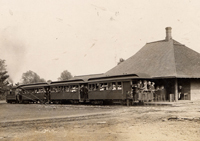 The Dinkey at the Hub, circa 1906. Photo courtesy of the ISU Library/Special Collections Dept.
History lesson
Horticulture professor Arthur T. Erwin initiated the planting of about 50 (an estimate from Cooper, who has counted the trees -- and vacant spots in the row -- several times) sycamores around 1909, when he also served as Iowa State's superintendent of grounds. Erwin decided the trees were needed to create tranquility for faculty, staff and students as they trekked by rail or foot between campus and Ames. Based on the size of the various trees, Cooper estimates the trees were planted sometime between 1910 and 1920.
An aspiring landscape architect who will concurrently earn both her bachelor's and master's degrees in landscape architecture this summer, Cooper presumes Erwin had a specific purpose for the sycamore trees, aside from their aesthetic value.
"The trees are on the south side so that the path and the train would be shaded," she said.
Cooper had to rely on her own research and landscaping skills to connect the historical dots of Sycamore Row; very little was written about the trees in university history. For example, why did Erwin choose sycamores? Cooper thinks she may have figured this out as well.
She said sycamores are tolerant of water, and since part of Sycamore Row lies in an area that floods frequently, she figures Erwin took note of this fact, too. Cooper unearthed another interesting tidbit about Erwin's past that may have contributed to his tree choice. While looking into his personal history, she researched Erwin's hometown, Fulton, Mo., only to discover that the town's main street is Sycamore. Coincidence?