Oct. 28, 2010
Construction webcams serve many purposes ... and audiences
by Anne Krapfl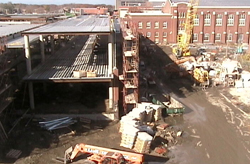 State Gym addition view from the south.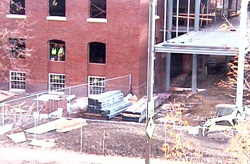 State Gym renovation view from the north.
Construction managers rely on them. Donors to building projects appreciate them. But perhaps nobody loves and uses a construction webcam like the future tenants of the building going up.
"We know lots of people are looking at our webcams. It's a good project and a good PR [public relations] thing," said Dean McCormick, director of design and construction services for facilities planning and management. But in addition to assisting FPM construction managers and connecting donors to their projects, McCormick said the webcams serve other purposes. They contribute to security on a job site, they record the work progress for archival purposes, they can help resolve disputes and they serve as an accountability tool, he said.
"Contractors' crews know that 'eye in the sky' is watching the whole day," he said.
Construction engineering classes also use them occasionally to understand the timeframe for construction.
FPM keeps an inventory of 10 webcams, according to web technologist John Hoffman. At any time, somewhere between two and eight of them typically are in use at a campus construction site. Longer or bulkier sites -- the Morrill Road replacement this summer or the current addition to State Gym -- might use two webcams to record two angles or ends of a project.
At his or her desk computer, the FPM construction manager assigned to a project can control the camera angle, including zooming in on specific locations or equipment as needed. If you happen to be viewing a construction webcam feed when this happens, it's likely the construction manager is online, too. Unlike the university's two public-access webcams, which overlook the front lawn of the Memorial Union and the lawn south of the library, members of the general public can't take control of the construction webcams.
The first of dozens
Hoffman said the College of Engineering gets credit for operating the first construction webcam when Howe Hall was built in the late 1990s (it opened in fall 1999). The webcam was a hit with many audiences, and FPM decided to do more of it. The Palmer Building (completed in 2000) was FPM's first project; there have been more than 30 since then, including buildings, building additions and significant parking lot projects.
Hoffman wrote the software that creates and maintains the website for each camera. Generally, the cameras are turned on from 6 a.m. to 6 p.m. daily. In addition to offering live video, each webcam takes a photograph every five minutes. After 6 p.m., these images are compiled into a daily time-lapse video for departmental use. The image captured closest to noon each day also gets pulled into a daily photo archive for each site. These noon images also get pulled into an ongoing movie that tells the project's story from the first day of construction.
When a project is completed, Hoffman moves these project videos to a public archive. For example, the Morrill Road project (May 20-Aug. 30) is condensed to about 10 seconds, the movie for the Coover Hall west addition (July 2006-April 2008) runs about 60 seconds.
How do you do that?
Hoffman said he receives quite a few inquiries from IT people at other universities about how he runs ISU's webcam system. So many, in fact, that he developed a document he sends to them, outlining how to set up the server and create page templates and create time lapse videos.
A team from FPM's building access services has the task of finding -- or creating -- a high spot on which to mount a webcam and its protective bubble. Sometimes it's a building roof, sometimes a utility pole, but never the comfy confines of a computer desk from which the rest of us enjoy the view.