Oct. 28, 2010
Cy gets tough
by Erin Rosacker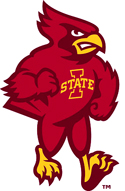 Cy is getting his swagger on, just in time for the holidays. A new set of mascot graphics featuring a tougher, stronger Cy was developed to accompany the primary I-State athletics logo.
Trademark licensing program director Leesha Zimmerman said the new mascot graphics, released to vendors last week, were created to help bridge the gap between the I-State logo and the athletics word marks ("Iowa State" and "Cyclones").
The trademark licensing office collaborated with the Licensing Resource Group and the trademark licensing advisory committee to study and revamp the university's family of trademarks. Zimmerman said the new graphics were developed when the study showed "images missing between the primary I-State logo and the athletics word marks."

"We definitely wanted to keep Cy," Zimmerman said. "But we wanted to refresh him and make him look more like our mascot walking on the field."
ISU hired the Pennsylvania-based Joe Bosack Graphic Design Company to create the marks. Zimmerman said the designers studied the history of ISU's logos -- such as the walking Cy and the punching Cy -- to develop a design that incorporated elements from ISU's former marks.
Local merchandisers likely will have items ready in the coming weeks, while national brands (such as Nike) will release their products next fall. The former athletics marks, introduced in 1995, have been retired and will join the university's vintage collection in the future.