Sept. 30, 2010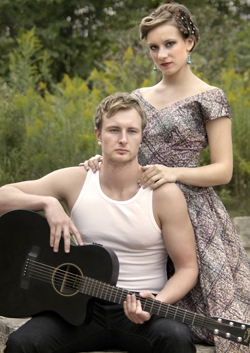 Scott Kettner (as Val Xavier) and Heather Smith (as Lady Torrence) lead the cast of ISU Theatre's Orpheus Descending. Photo by Casey Gradischnig.
Orpheus Descending is up first on ISU Theatre's stage
ISU Theatre opens its 2010-11 season this weekend with a 1957 Tennessee Williams play identifiable for familiar Williams themes: loneliness, repression, sexuality and a longing for freedom.
Orpheus Descending tells the story of a young charismatic guitar player (Val Xavier), who descends on a small southern town in the late 1940s. He is hired by, and forms a relationship with, store owner Lady Torrence, a passionate woman trapped in a bad marriage and with a tragic family history.
The play takes its title from Greek mythology. Orpheus is the character who could charm anyone -- man or god -- with his music. Williams developed Val as a modern-day Orpheus.
But it's hardly moonlit love songs in Orpheus Descending. There are allusions to the town's violent past, and by play's end, the violence is real.
Communal loneliness
Director Brad Dell, assistant professor of music and theatre, said at times Orpheus Descending might feel like some of Williams' other plays, including Cat on a Hot Tin Roof, The Glass Menagerie and A Streetcar Named Desire.
"What makes Orpheus Descending different is that his other plays were about families, whereas this one is about an entire town," Dell explained. "There are still themes of isolation, loneliness and rejection that are found in other Tennessee Williams works, but it's taking place in a whole town."
Dell said he also likes Orpheus Descending for its roles for women. "We have 10 female roles, and we see this town from the perspective of women," he said.
Orpheus Descending stars juniors Heather Smith as Lady Torrence and Scott Kettner as Val Xavier. Other students with lead roles are sophomore Kelsey Kovacevich as Carol Cutrere, senior Tamara White as Vee Talbott and senior Margaux Mireault as Dolly Hamma. Clark Ford, associate professor of food science and human nutrition, plays Lady Torrence's husband, Jabe.
Performances begin at 7:30 p.m. on Oct. 1, 2, 8 and 9. Matinees begin at 1 p.m. Oct. 3 and 2 p.m. Oct. 10. All performances are in Fisher Theater. Tickets are $15 (seniors $13, students $8), and available through Ticketmaster, the Iowa State Center ticket office or at the door.
Editor's note: The production contains offensive language.