Sept. 30, 2010
Osborn Research Club enjoys a long, quiet existence
by Paula Van Brocklin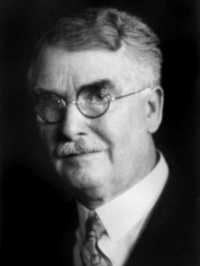 The Osborn Research Club is named for Herbert Osborn, a prominent ISU alum and scientist. He taught at Iowa State from 1879 to 1898, and chaired the department of zoology and entomology from 1882 to 1897. Iowa State University Library/Special Collections Department.
For the past 90 years, Iowa State researchers in the natural and physical sciences have had a unique venue in which to share their latest findings.
The Osborn Research Club, founded in 1920 as the Natural Science Research Club, provides a place for ISU faculty and staff to hear about the latest scientific breakthroughs taking place across campus. The 102-member club meets the second Monday of the month, September through April, for a social hour and dinner, followed by a public lecture at 7 p.m. Lectures usually are held in the Molecular Biology auditorium.
Purpose
The club's purpose is to get scientists together, in the same room, to exchange ideas.
"This is especially timely [now] because of the push for multi-investigator projects from a broad range of disciplines," said Philip Dixon, statistics professor and chair of the Osborn Research Club.
From clinical uses of stem cells, to the need for solar energy, to salmonella in eggs, the Osborn Club's public lecture topics often are current and relevant. A list of topics covered from January 2004 to the present is available online.
How to become a member
Existing members nominate individuals for membership in the club. Nominees also must be:
In the natural or physical sciences
ISU faculty or staff members, personally conducting research
On campus for at least one year, or transfers from other organizations where they conducted their own research
Producing substantial and high-quality research
More information on the nomination and election processes is online.
So, who is Osborn?
The Osborn Research Club was named in honor of ISU alum Herbert Osborn, who earned a bachelor's degree (1879), a master's of science degree (1880) and the university's first honorary Doctorate of Science (1916). He taught at ISU from 1879 to 1898, and chaired the department of zoology and entomology from 1882 to 1897.
Key to longevity
The 90-year-old Osborn Research Club is one of the longest-running organizations on campus. The key to its longevity is three-fold, Dixon said.
"Ongoing enthusiasm for science among the ISU faculty, a solid core of dedicated members, and interesting and timely discussions," he said.
For a more in-depth look at the Osborn Research Club, check out its website.