Sept. 2, 2010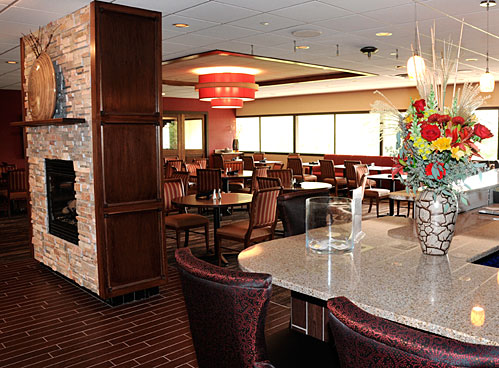 The Iowa Stater restaurant at the Gateway Hotel opened Aug. 31. Photo by Bob Elbert.
Familiar name for a new restaurant
During 27 days in August, the former Audubon's restaurant in the Gateway Hotel was converted to a new 105-seat restaurant, The Iowa Stater. Named after the former alumni newspaper (published 1974-2002), the restaurant has a casual atmosphere and features "comfort food with flair," according to executive chef Joe Weisz. Entrees range from $7 to $22.
The Iowa Stater is open during the week for breakfast (6:30-11 a.m.), lunch (11 a.m.-2 p.m.) and dinner (5-9 p.m.). Weekend hours are slightly modified. A full-service bar is open 4-11 p.m. Monday-Saturday. Two private dining rooms may be reserved in 3-hour blocks for a small fee.
The Iowa Stater offers several daily discounts, including ISU Day on Mondays (faculty, staff and students who show their ISUCard and alumni association members receive 20 percent off of food) and the popular "10 on Tuesday" -- a holdover from Audubon's in which any item on the dinner menu costs $10 or less on Tuesdays.
The Gateway Hotel and Conference Center is owned by the ISU Foundation.