Sept. 2, 2010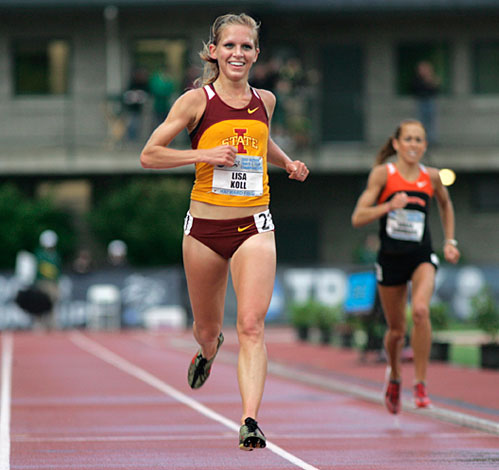 Among her many victories as a Cyclone, Lisa Koll captured both the 5,000- and 10,000-meter runs at the 2010 NCAA outdoor track and field championships in June in Eugene, Ore. Photo by Geoff Thurner.
Koll-powered achievement
by Mike Ferlazzo, News Service
Like most new students, Lisa Koll had goals when she arrived at Iowa State as a freshman. She wanted to get her degree in biology. And after being a track and cross-country state qualifier at Fort Dodge High, she hoped to become a college All-American someday, too.
Koll earned her degree in three years -- summa cum laude no less -- and was accepted into Iowa State's veterinary medicine program.
She became an All-American even faster, earning honors in cross country as a sophomore. Koll eventually would be an 11-time All-American who won four NCAA and nine Big 12 track championships while setting the all-time collegiate record in the 10,000-meter run (31:18.07). And she topped it off by earning the 2010 Honda Sports Award in track and field as the nation's top collegiate female athlete in the sport.
The possibilities
Talk about your overachiever. As someone who never won a high school state championship, Koll became a poster child for women's distance running.
"Being an All-American was my goal for my whole collegiate career when I was a freshman," said Koll, who also is an academic All-American. "I just wanted one All-American, and so to do that my sophomore year kind of opened up a whole new realm of possibilities for the future."
Her possibilities now include running in the 2012 Summer Olympic Games in London. Koll finished second in the 10,000 meters at the USA Outdoor Championships at Drake Stadium on June 24, then signed to run professionally for Nike.
Veterinary training interrupted
She'd still like to be a veterinarian someday. But her decision to downgrade that priority last summer may have allowed her to bounce back from an injury-filled junior season, when she admits that she wasn't getting enough sleep while juggling too much.
"I spent the summer kind of re-evaluating things and asking, 'How important to me is running?' And I realized that I wasn't ready to give it up," she said. "I wasn't ready to hang up the spikes and just be happy with whatever happened in my last year.
"But I worked really hard to get into vet school and it's something I was really passionate about. I just had to decide which one is going to be more important to me at the moment," Koll continued. "Running has a timeline and I'm not always going to be able to go back to running, but I can always go back to school. So I talked to the dean, and everyone at vet school was really accommodating."
Embracing the lifestyle
Koll said all ISU faculty were willing to work with her throughout her busy Iowa State schedule. But she also made a commitment to a lifestyle for success, too.
"Distance running takes a sort of commitment and drive and dedication that doing well in the classroom does too, so the two really go hand-in-hand," Koll said. "It's a lifestyle -- get up, run, study, eat, sleep. That's really all you have time for.
"So, when some people say 'How did you do it?' it was really just a choice," she said. "I don't think it was really that difficult. It was more of just being committed to [the lifestyle] and finding joy in being successful in those things."