Aug. 19, 2010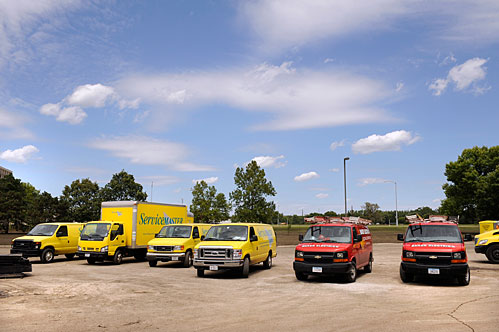 A fleet of flood-relief vehicles has been staged in the Iowa State Center parking lots. Photo by Bob Elbert.
An army of yellow helps ISU clean up
by Diana Pounds
Iowa State is rolling along the road to flood recovery behind a convoy of yellow vans. The vans belong to ServiceMaster Clean, an international disaster recovery service headquartered in Memphis, Tenn.
"These are the pros in the business," vice president for business and finance Warren Madden said. "They work disasters all over the country."
Experience, foresight helps
Madden said Iowa State is two to three weeks further along in recovering from the flood than it was during the similarly destructive flood of 1993 because "we've got more experience and we had the foresight to have a contract with ServiceMaster that we could immediately implement."
Crews were on campus within 24 hours of the flood, arriving late Wednesday, Aug. 11.
ServiceMaster's focus is on initial cleanup of facilities, before reconstruction work begins, said David Miller, director of facilities planning and management operations.
Sterilize, humidify, disinfect
"They come in to sterilize, dehumidify, disinfect and clean everything," he said. Their job is to make the building safe and dry."
ServiceMaster workers are tackling most flood-soaked facilities, such as Hilton Coliseum, the Scheman Building, University Community Childcare, first. However, they'll also be turning their attention to some other facilities on campus with lesser damage.
Another professional disaster recovery service on campus is Cotton USA, a firm headquartered in Katy, Texas. Cotton crews are concentrating on outdoor surfaces, such as Veenker Memorial Golf Course and recreational fields, Miller said.
Lots of generators, diesel fuel
Miller said that ServiceMaster has brought to campus approximately 300 people, 75 vehicles and 500 to 600 pieces of equipment, such as dehumdifiers, fans, vacuums, generators and power washers. Cotton USA's numbers are 200 people, 20 vehicles and 75 pieces of equipment, including scrapers, brooms for parking lots and other power equipment.
Miller added the two contractors are using $18,000 worth of diesel fuel each day. The fuel is powering generators to run pumps, fans, dehumidifiers and powerwashers.