July 1, 2010
Volunteers sought for state fair exhibit
by Diana Pounds
You've been involved in some green campus projects
You can roll posters and talk to Cyclone fans at the same time
You're pretty handy applying tattoos (the stick-on kind, that is)
If you can yes to any of these questions and love the Iowa State Fair, consider volunteering for a stint at the ISU exhibit in the Varied Industries Building. Faculty and staff are needed to help staff the exhibit from Thursday, Aug. 12, through Sunday, Aug. 22.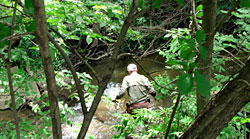 College Creek cleanup
Economics professor Peter Orazem splashes into College Creek in search of trash. Orazem was among 30 volunteers who spent a steamy Saturday afternoon (June 19) pulling debris from the creek's bottom and banks. Sustainability director Merry Rankin said the crew filled 20 25-gallon trash cans in the second annual cleanup of the campus creek. Photo by Shawn Wagner.
Green theme
The theme of this year's exhibit is "Iowa State University Lives Green!" The exhibit will feature the university's electric car and solar compactor, and a model of the Interlock House, ISU's entry in the U.S. Department of Energy's Solar Decathlon.
The exhibit also will highlight campus projects in dining, green cleaning, composting, energy conservation, wind energy, serving local foods, recycling, alternative transportation and green building.
Those who've been involved in these or similar projects at Iowa State are encouraged to help staff the green portion of the exhibit.
For the fans
Volunteers also are needed to pass out football posters and apply I-State temporary tattoos.
"More than 500,000 people visit the air-conditioned Varied Industries Building and view the university's exhibit," said director of university marketing Carole Custer. "This is a great time to show our campus sustainability projects and build Cyclone spirit."

T-shirt design
How to volunteer
The minimum time commitment is a 6- or 6.5-hour shift during one day of the fair, although individuals can volunteer for additional shifts. There are two shifts per day: 8:45 a.m.-3 p.m. and 3-9 p.m. The university marketing office will pay for volunteers' admission, parking in the fair's big lots, and a special Live Green T-shirt to wear in the exhibit.
To volunteer, contact Mara Schapman in the university marketing office, !mrktgstd@mail.iastate.edu, 4-3969, by Thursday, July 8.