May 27, 2010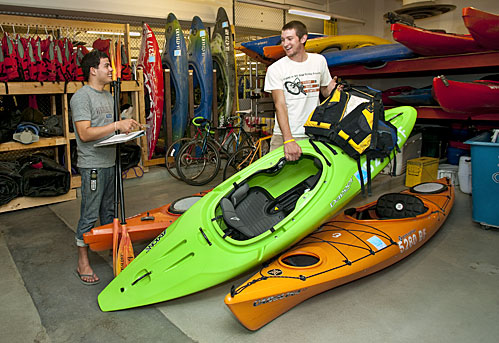 Sophomores Ismael Pinto (left) and Adam Prosise are among outdoor recreation center workers whose duties include affixing watercraft to cars. Says center coordinator Jerry Rupert: "We can load a canoe or kayak on practically any vehicle." Photo by Bob Elbert.
On-campus outfitters
by Diana Pounds
If the weather has put you in the mood to paddle, pedal or pitch a tent, consider using recreation services as your outfitter.
The well-stocked equipment center in Beyer Hall rents canoes, kayaks, tents, sleeping bags, backpacks, camp stoves, lanterns, bikes, outdoor games and much more. The gear is available to faculty, staff and students at low rates.
Outdoor recreation center coordinator Jerry Rupert says the most popular summer rental is water gear.
"The equipment rental office has been busy," he said, "but we have a lot of gear, so equipment people want is generally available."
To rent gear
While State Gym is under renovation, equipment rentals occur at 112 Beyer. You must drop by that office with your ISUCard to reserve gear. Office hours are 8 a.m. to 6 p.m. Monday-Friday. Renters also can return items Sunday evenings, 5 to 8 p.m.