May 20, 2010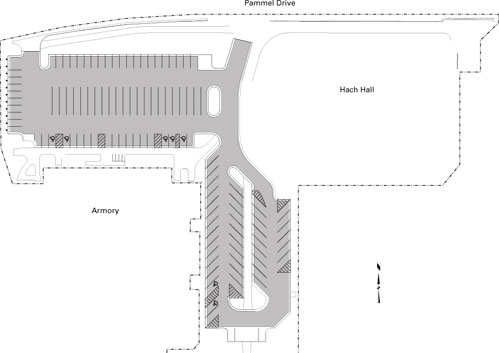 Parking lots 22 (north of the Armory) and 23 (east of the Armory) will use the same entrance off of Pammel Drive when renovation work on them wraps up in late July. Submitted image.
Changes to Hach Hall-vicinity lots should be done by Aug. 1
by Anne Krapfl
The sidewalks are in. The lawn is graded. The interior finishing work is picking up steam. With the new chemistry facility, Hach Hall, about 85 percent completed, work on the adjacent parking lots also began last week.
Lot 23
Back in June 2008, Lot 23, between Davidson Hall and the Armory, became first a construction zone for additional underground utilities and later a staging area for the building construction. Formerly, it was a reserved permit lot for 104 vehicles. When it reopens, around July 1, it again will be a reserved permit lot, containing 42 stalls -- 40 regular and two handicap accessible stalls.
Employees who parked in lot 23 prior to June 2008 will have the first chance to return to that lot, said Mark Miller, manager of the parking division in the department of public safety. Employees on that list who don't get one of the 42 spots will be on a waiting list. Miller said he'll start a second waiting list, based on seniority at the university, of other employees interested in a lot 23 permit.
Lot 22
When lot 23 is open, work will move to Lot 22, also a reserved permit lot, on the north side of the Armory. It will be enlarged and reconfigured to add stalls, from the current 76 stalls to 97 -- 92 regular and five accessible. Lots 22 and 23 will share a single entrance off of Pammel Drive. This work should be completed by late July. Current lot 22 permit holders will be asked to park in lot 21, the pre-pay lot on the west side of the Armory, during this process.
Miller said quite a few employees will move from lot 22 to 23 when it reopens. Due to this migration and the additional spaces to be created in lot 22, he anticipates that approximately 25 stalls would be available there on a first-come, first-served basis.
Miller also noted that if the demand isn't great enough to fill lot 22 with reserve permits, his staff will look at other options to make optimal use of the space. Those options could include general staff permit spaces, meters or additional vendor/departmental permit stalls.
When Hach Hall opens and the reconfigured lots 22 and 23 are completed, Miller said the net effect will be a loss of about 40 stalls in this block of campus from the pre-construction period. But, he noted that in anticipation of the Hach Hall project, the parking division hadn't assigned any new permits in lots 22 or 23 during 2007 or 2008. Thus, neither was at capacity when construction began.