May 20, 2010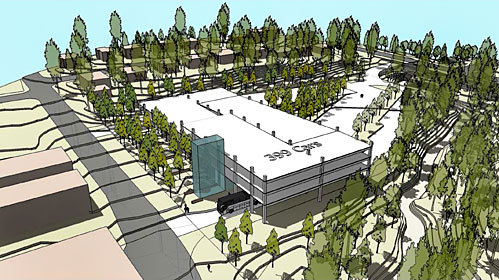 Facility concept rendering. Contributed image.
Transportation hub will become a reality
by Erin Rosacker
The ink still is drying on signatures that make an Ames intermodal transportation facility a reality. Funded by a federal grant, the final forms for the project were submitted to the Federal Transit Administration on Monday. The facility will be located between Sheldon and Hayward avenues near Campustown, alongside College Creek. Vehicles will be able to enter it from both streets.
The facility -- a collaborative effort between ISU and the city that will provide a transportation hub for bus, bike, carpool, commuter, taxi and pedestrian traffic -- received $8.463 million in federal grant money, about 20 percent of the original $43 million request. Organizers also secured additional Congressional and local matching funds ($437,500) for the project.
Organizers went back to the drawing board and developed a phased project that could expand the facility as future funds are acquired. The first phase includes:
Enclosed bus bays (Jefferson Lines, Burlington Trailways, Executive Express and Heartland Senior Services)
Taxi stand
Bike path access, including bike racks and lockers
Two- level parking ramp, above the bus bays
Additional paved parking areas
Public restrooms, possibly with showers
Office space for management and security
Pocket park
CyRide will manage the facility, but will not be part of the interior bus bays. CyRide bus service will be available at two bus stops each within a block of the facility, and the addition of the local service is part of the phased plan.
The office space will accommodate staff who will manage the facility and, possibly, officers from the Ames and ISU police squads.
The numbers
Bids are expected to go out next January. If the economic climate allows the project to get more bang for its construction buck, plans for an extended bike path or an additional level to the parking deck could become a reality.
Even without an additional parking deck, the facility will accommodate 399 vehicles in the parking ramp (305) and open areas (94). A combination of parking permits and daily rates likely will be used.
According to the submitted plan, the transportation hub will be designed with LEED® certification in mind. The anticipated project schedule shows an April 1, 2011, construction start date with occupancy by June 1, 2012.