May 20, 2010
Students' summer internships come in all shapes and sizes
by Teddi Barron, News Service
For their summer vacations, Iowa State students are fanning out across the globe, doing everything from distributing mosquito netting in Uganda to maintaining tropical landscapes at SeaWorld. They're participating in summer internships, those valuable resume builders that signify practical experience. The importance of internships is multifaceted, said Kathy Wieland, director of Business career services at Iowa State.
"Of primary importance is the opportunity for the student to apply what has been learned in the classroom in a workplace setting. This can confirm the career choice or allow for a change in direction," Wieland said. "Conversely, the employer has the opportunity to 'test drive' the candidate for future opportunities."
And, Wieland said, data indicate that students who intern get better jobs, quicker and at higher salaries.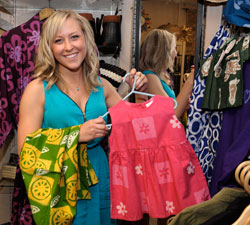 Senior Hillary Van Ham will spend eight weeks this summer in Cape Coast, Ghana, working on product development for a fair trade clothing organization that helps African women become economically independent. Photo by Bob Elbert.
Sustainable fashion in Ghana
Hillary Van Ham's work this summer on product development with Global Mamas in Cape Coast, Ghana, is worlds away from last summer's merchandising experience in a Chicago dress boutique. Van Ham is one of three Iowa State apparel merchandising, design and production majors interning with the nonprofit, fair trade clothing organization that helps women in Africa become economically independent.
To land the internships, seniors Van Ham, Batavia, Ill., and Jessica Galasso, Des Moines, networked directly with Global Mamas, following a lead from Ann Thye, their academic adviser. Both students had expressed interest in fair trade and sustainable fashion. Although the experience will boost their resumes, it won't augment their incomes. The eight-week volunteer stint is unpaid.
Still, said Thye, it's a win-win for the students. They can put their class work to good use in the global fashion industry while learning from an organization that combines good business practice and artisan collaboration to support sustainable development. The students also earn class credit for completing projects like designing garments, hand dyeing textiles and improving the supply chain.
A year at the ballpark
Marketing major Tyler Hendricks, Maple Grove, Minn., may have landed his dream internship: He's one of four student interns working 12 months at the Minnesota Twins' brand new Target Field in Minneapolis, processing tickets and working with promotions.
The internship pays minimum wage (plus overtime -- which is significant because he's been working seven days a week). Hendricks worked with the Houston Astros last semester.
After graduation in December 2011, he'll pursue a career in the majors, hoping someday to work in the front office of a baseball organization.
"These internships have allowed me to get my foot in the door and create lasting networks that will hopefully lead me to get a job after graduation. And they have given me valuable experience," Hendricks said. Not to mention that it's "been extremely busy but loads of fun."
On two continents
Nicholas Hodne, an international business and management major from Ankeny, is splitting his 13-week Tyson Foods internship between Arkansas and China. Hodne scored the unpaid job by networking with contacts he made at a career fair. In Shanghai, he'll spend time in each area of business operations. In Arkansas, he'll work with the international legal and marketing teams, his two primary career interests.
"The experience I will gain is priceless," said Hodne, who plans to pursue a combined law/MBA graduate program. "An experience like will really help me stand out from other grad school and job applicants."
Self-designed internship
Darrin Vanderplas created his own internship opportunity in Kamuli, Uganda, where he will intern with the non-governmental organization Volunteer Efforts for Development (VEDCO). The agronomy and kinesiology senior from Preston, Minn., collaborated with VEDCO during ISU's school garden service-learning course in Uganda two summers ago.
"This experience was so influential in the development of my goals, that I proposed this internship to VEDCO and the kinesiology department," said Vanderplas, who plans on serving in the Peace Corps with his wife after graduating in May 2011.
During his 10-week unpaid internship, Vanderplas will assist a community nutrition and health worker in providing education and training in agriculture and health. They'll work on anything from "promoting nutrient-dense crops to distributing mosquito netting."
Graphics work for House Beautiful
Past work experience and portfolio samples from Meredith Corp. in Des Moines launched graphic design major Gail Dixon into a plum internship with House Beautiful magazine in New York City. The senior from Grimes will work for the promotional art director. Although the internship is unpaid, she'll earn class credit. And she'll come away with "many pieces for my portfolio."
"I'll be working on the design of promotional pieces for Kitchen of the Year," Dixon said. "House Beautiful builds a full kitchen in Rockefeller Center that is featured on NBC's Today show and open for tours."
Orlando-bound
Another graphic design student, Ryan Bickford of Ottumwa, tracked down his unpaid 10-week internship online. He'll be at Nickelodeon Recreation Creative Studio in Orlando, working on print promotions for Nickelodeon's theme park, resort and traveling live shows. The only graphic design student in the nation selected for the internship, Bickford said the internship is "costing me money," but worth it because "working in a place that is creative and fun and uses radical design" will be a big resume-builder.
Horticulture student Laura Klavitter, LeClaire, will be nearby at one of SeaWorld's three Orlando parks. In her paid internship, she will maintain high-end, colorful tropical landscapes. She'll help install new plantings, care for hundreds of hanging baskets and plants, maintain topiary presentations, and "learn how to handle high-guest capacity challenges in the landscaping industry." It's a perfect job for Klavitter, who graduates in December.
"SeaWorld would be my ideal career choice, but I'm keeping my options open," Klavitter said. "It ties into my passion to work with tropical plants and provides the experience of creating themed displays in a well-known, high-capacity park."