April 29, 2010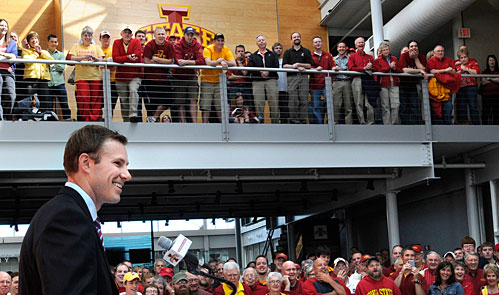 Welcome home, Fred
Ames native and former Cyclone Fred Hoiberg was introduced as the 19th ISU men's basketball head coach in the program's 103-year history. Fans and media members filled the Jacobson Athletics Building for the April 28 announcement. Hoiberg replaces Greg McDermott, who left for Creighton University after compiling a 59-68 record in four years at ISU.
"I am very humbled to receive this opportunity and appreciate the confidence that Dr. Geoffroy and Jamie Pollard have shown in me," Hoiberg said. "It's a Hollywood script for me to take the reins of a program that I cheered for as a kid, played for as a collegian and followed closely for more than a decade as an alum."
Photo by Steve Pope.