April 22, 2010
Can, bottle recycling trial at MU runs through April 30
by Anne Krapfl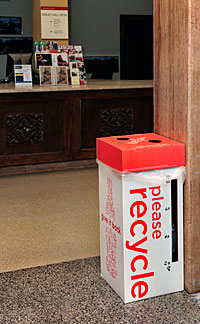 These temporary bins at the Memorial Union are part of a 12-day pilot project led by ISU's Green Umbrella Group to test campus interest in can and bottle recycling there. Photo by Bob Elbert.
A two-week pilot effort April 19-30 will be used to assess campus interest in recycling beverage bottles and cans around the Memorial Union. Fifteen red-and-white containers are located at 14 locations, most of them near interior or exterior entrances, around the MU this week and next.
Provided by the Coca-Cola Company at no cost, any Iowa redeemable can or bottle may be recycled in them.
The recycling trial is coordinated by Iowa State's Green Umbrella Group, which, as its name states, includes liaisons from more than 30 campus groups -- about half of them student organizations -- with a focus on sustainability. Former Government of the Student Body vice president Chandra Peterson helped found the group this year and serves as its treasurer. She's also very involved in the trial project.
"We don't have a lot of time left in the school year, and with the budget cuts, we don't have a lot of money to start new initiatives," she said. "But we're going to try to draw attention to them, encourage people to use them, and keep track of what people are putting into those containers."
Why now?
Mission of The Green Umbrella:
Bring together campus sustainability organizations to make students more aware of sustainable efforts around them. The group's goals are three-fold:
1. Create an open forum for discussion about green initiatives at ISU
2. Act as one voice to ISU administration about student sustainability issues
3. Brainstorm ways to teach students how they can make their lives more sustainable, participate in green efforts and voice their opinions on sustainable issues
Planners purposely picked Earth Week to launch the project, when attention to green efforts might be keener, but also want a second week for comparison purposes.
She said student volunteers will record what goes into the recycling bins -- redeemable containers, non-redeemable containers or simply trash -- to gauge the volume of recycling that might be possible at the MU.
If the redeemable volume is high and the cash potential is attractive, Peterson said the labor to maintain permanent containers could be handled by many student organizations as a fund-raiser. In short assignments, they could empty and maintain the bins and use the recycling proceeds to help fund their programs.
MU associate director Gail Ferlazzo said the lack of holding space at the building's loading dock demands creative solutions to how a long-term bottle and can recycling program would be managed. But she said MU administrators are on board with the project and assisted with planning and developing signage, and are providing some custodial help during the pilot period. Ferlazzo said they're also interested in the volume of containers recycled during this trial and the level of interest in recycling.