Jan. 14, 2010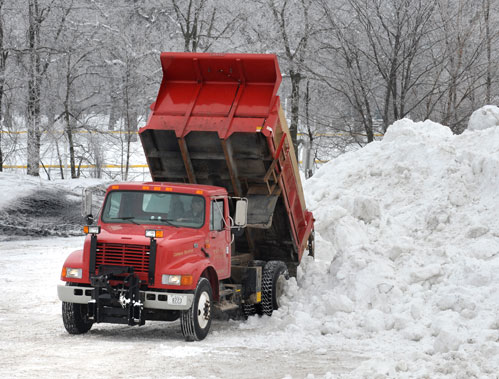 Truckloads of snow from campus parking lots are dumped near the coal piles on the east side of Haber Road. Photo by Bob Elbert.
Snowhere to go
by Erin Rosacker
With record-setting accumulations of snow in December, facilities planning and management's campus services crews have their hands full moving mountains (literally) of the white stuff.
"We've spent half of our budget for snow removal in the month of December," said Les Lawson, campus services manager.
The method behind the madness
Plowing is just the first step. Lawson said there is little room in parking lots for snow storage, so the snow piles are loaded onto dump trucks and trucked to open areas along Haber Road (south of the coal pile) and 13th Street (near the disc golf course).
The mounds of snow that build up between sidewalks and streets are the biggest challenge, Lawson said. With a double-whammy of castoff snow from both sides, the piles grow quickly and need to be removed often. That's when the Bobcat machines mounted with snow blowers move in and shoot the piles onto the lawns.
The hours dedicated to snow removal come at a price for campus services crews, and not just financially. Regular winter chores, such as tree and shrub pruning or equipment repairs, are postponed until ISU's roads (23 miles), sidewalks (34 miles) and parking lots (162 acres) are cleared.