Jan. 14, 2010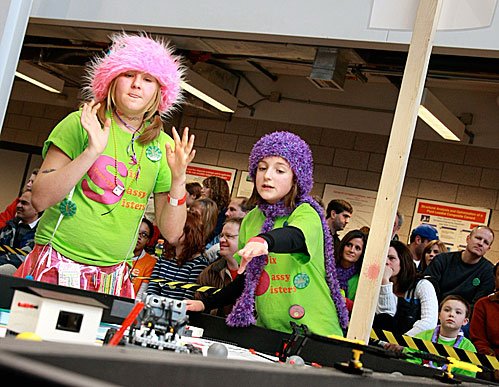 Action at the 2009 Iowa FLL Championship. Photo courtesy of Iowa State Engineering Kids.
Iowa FIRST LEGO League Championship challenges students to think about transportation
by Mike Krapfl, News Service
Libby Swartley may be a veteran of three FIRST LEGO League seasons, but she says the annual contest -- featuring LEGO robots taking on tabletop missions -- still is a lot of work.
Swartley and her teammates from Cedar Falls have had to program their little LEGO machine to complete simulated missions that take them into some of the planet's biggest science and engineering challenges.
The first year it was energy. Then it was climate science. And this year it's "Smart Move," the transportation of people, animals, information and things. And while Swartley and her team still have a few things to figure out by the Jan. 16 Iowa FIRST LEGO League Championship at the College of Engineering, the 12-year-old sixth grader is ready to compete.
"It's really fun," she said. "It's not just the missions at the table. We have projects and teamwork and technical interviews."
Besides, she said, "It's fun to be there with lots of people and see how all the other teams do their missions."
Spectators welcome
Swartley is right about the people. Organizers of the state championship for 9- to 14-year-olds are expecting 72 teams to compete, with as many as 10 members on a team. Opening ceremonies begin at 9 a.m. in the Howe Hall atrium, with closing ceremonies at 4:30 p.m. The event is free and open to the public.
And while team T-shirts, loud cheers, funny hats and LEGO bricks are part of the show, there are some lessons in engineering, science and technology, too.
"It's amazing to see what the kids learn through FIRST LEGO League," said Brandon Newendorp, an Iowa State graduate student in human computer interaction and co-chair of the championship.
Chris Tourek, an Iowa State graduate student in mechanical engineering and the other co-chair, said the learning includes skills in computer programming, building a useful machine and presenting research work.
Real-world science
The competition is all about showing young students that there's more to science than equations and lab worksheets, said Camille Sloan Schroeder, manager of Iowa State Engineering Kids, a program that promotes engineering to elementary and secondary students.
"We really want kids to see the other side of math, science, engineering and technology," she said. "In school, they learn with teachers working at the chalkboard. They often don't see a relationship between what they're learning and the physical world. We take what students learn in schools and apply it to something super fun and exciting."
There are now 215 FIRST LEGO League teams across the state. That's 73 more than last year. Worldwide, there are more than 12,000 teams. And Kenton Swartley, Libby's father and FIRST LEGO League coach, wishes there were even more.
"This competition is just a great opportunity for the kids," said the physics teacher at Cedar Falls High School. "I look at the 10 students on our team and compare them to all the students at our elementary school. Boy, it would be nice if all the kids had an opportunity to do something like this."