Dec. 7, 2009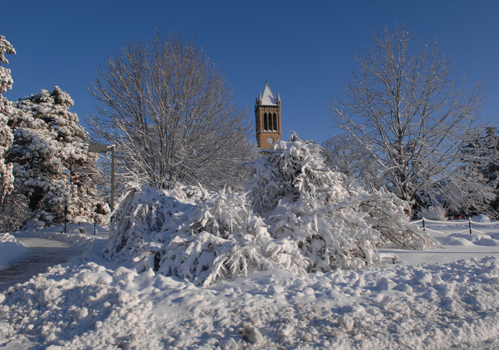 Photo by Bob Elbert.
Winter parking alternatives
by Erin Rosacker
Winter weather procedures dealing with cancellations, closures and parking have not changed, but staff reductions may impact how quickly snow and ice is removed from campus streets and sidewalks.
"We have two fewer people than we did last year," said Les Lawson, campus services manager. "With the crews that we have, we'll do the best that we can, but it will take longer than it used to."
If the timing of a snowfall prevents parking lots from being cleared by 7:30 a.m., employees can park at the Iowa State Center (lots A3, A4, B5 and B6) and take the free CyRide Orange route, which runs every five to 10 minutes. Other available parking areas include:
Lots 29 and 30, north of Molecular Biology
Lot 41, north of the General Services Building
Lawson said facilities planning and management staff will continue to clear snow and ice over the winter break, although some campus units plan to close. Administrators at Beardshear Hall have asked FPM crews to clear only the north doors of the building during that time.
Cancellations and closures
During inclement weather, the ISU web site and campus information center (4-4357) will have up-to-date information on the university's status. Radio and television stations also will be notified of cancellations and closures.
If classes are canceled, but the university is not closed:
Offices are open for business as usual
Employees who are unable to make it to work need to contact their immediate supervisors
Employees may request to make up the time, use vacation time or take leave without pay
Staff members covered by collective bargaining agreements should refer to the language in the severe weather portion of the contract
If the university is officially closed:
Classes are canceled and university offices are closed
Employees working in important operational areas (security, food service, campus services, power plant, for example) need to follow that area's specific procedures
Some staff members may elect to work their regular hours despite the closure and with supervisor approval