Dec. 10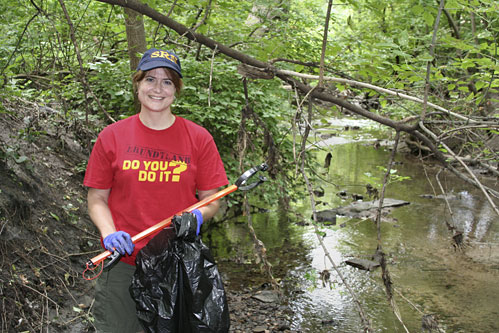 Iowa State's first director of sustainability programs, Merry Rankin, has proven to be a hands-on type of campus conservation leader. She is pictured here during last summer's voluntary cleanup of College Creek. Photo by Ed Adcock.
Promoting green ethics
Ed Adcock, Agriculture and Life Sciences Communications
Merry Rankin became intrigued by the idea of combining the rest of the world with the conservation-minded ethics she grew up with on her parents' farm near Attica.
As Iowa State's first director of sustainability programs, she coordinates environmental activities on campus.
She joined Iowa State last January to guide development of a university-wide plan for sustainable practices as part of president Gregory Geoffroy's Live Green initiative. Rankin said the initiative recognizes that, for a number of years, sustainability efforts have been under way at Iowa State.
"The other part, then, is ensuring that we not only are on the cutting edge of energy-conserving and sustainability efforts in our teaching and research, but also in everything we do on a daily basis. And looking at how we are carrying this into our daily lives and into the community," she said. "When students go on to their future careers, it is our hope they will apply these skills and knowledge to their work and workplaces and the communities in which they live."
Second return to campus
Rankin honed her skills on the Iowa State campus, earning a business degree in 1987. She got her start in retail business, then decided to go back to school at Iowa State. She earned a master's degree in wildlife biology in 1998. Research projects during graduate school took her to Australia, Costa Rica and India. After graduation, she received a Rotary Ambassadorial Scholarship to complete post-graduate study in South Africa.
Fresh from a position with the Iowa Department of Natural Resources (DNR), Rankin brought practical and strategic experience to ISU's efforts. At the DNR, she worked as an environmental specialist with the recycling technical assistance team, focusing on green building, green purchasing, electronics recycling and helping municipalities expand recycling efforts. Then she became director of volunteer programs, helping coordinate approximately 100,000 volunteers annually.
"What this position [at ISU] allows me is really the opportunity to put everything together," Rankin said. "On any given day, I may be talking about green building, green purchasing, maybe talking to professors about service learning that supports sustainability efforts, and even recruiting volunteers. So it really brings everything together."