Dec. 8, 2011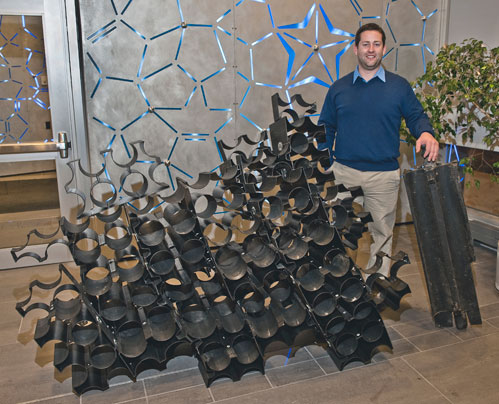 Proof of the trash-treasure link
This semester, the Skunk River Navy -- a service project in the freshman biology learning community -- added a new dimension to its annual trash patrol: student artwork and a commissioned sculpture, all created from the collected trash. And freshmen from two College of Design learning communities were invited to collaborate.
A Dec. 1 reception and exhibition in Hach Hall featured the unveiling of the sculpture by Michael Stanley, art and design lecturer (pictured above). He created Cellular Debris from the plastic separators used to stack pipes in transport, which, he said, "are really bad for the environment." The 17 pieces of student artwork by biology and design majors (below) integrated wire mesh, plastic inner tubes, broken glass, aluminum cans, fishing gear and even flip flops into sculptures, jewelry and mosaics, proving that trash really can become treasures.
Bessey Hall will be the permanent home for Stanley's sculpture and temporary home (through January) for the students' work, said Denise Hix, who piloted the collaboration as coordinator of the biology learning community. Photos by Bob Elbert.