Nov. 17, 2011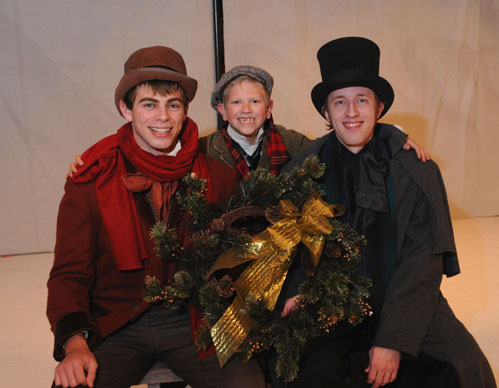 ISU Theatre presents the holiday classic, A Christmas Carol, Dec. 2-4 and 9-11 in Fisher Theater. Pictured from left to right are freshman Ethan Day (Bob Cratchit), Carter Pilcher (Tiny Tim) and junior Mark Klooster (Scrooge). Photo by Patrick Gouran.
ISU Theatre ushers in holiday season with A Christmas Carol
by Paula Van Brocklin
Nothing gets you in the holiday spirit quite like the time-honored tale of curmudgeon Ebenezer Scrooge in A Christmas Carol, written by Charles Dickens in 1843. ISU Theatre brings this Christmas classic to life at Fisher Theater during multiple performances Dec. 2-4 and Dec. 9-11.
The story chronicles Scrooge's Christmas Eve adventure, seven years after the death of his business partner Jacob Marley. The evening begins when Scrooge begrudgingly lets loyal employee Bob Cratchit spend Christmas Day with Cratchit's family. He then rejects an invitation from his nephew, Fred, to Christmas dinner, declaring "Bah! Humbug!" and also denies a request to share money with the poor. After leaving work, Scrooge arrives home, nestles into bed and endures unsettling visits from the ghosts of Christmas Past, Present and Future, who try to redeem him.
ISU Theatre's performance is true to Dickens' original tale. Director Jane Cox, also ISU Theatre chair, even added four narrators to the cast to read aloud excerpts from the book, not normally heard in most stage portrayals.
"I put them into the play because the lines are so wonderful," Cox said.
One of the challenges of this play, according to Cox, is the large cast of 55 actors. Most are ISU students, but about a dozen are children from the community who play the parts of Tiny Tim and his siblings, Scrooge as a child and the ghosts of Ignorance and Want.
Appropriate for all ages, audience members will enjoy the play's special effects, such as the ghost of Marley rising from underneath the stage in a fog of dry ice and doors spontaneously opening and closing as the ghosts visit Scrooge.
Performances for A Christmas Carol are Fridays and Saturdays, Dec. 2-3 and 9-10 at 7:30 p.m., and Sundays Dec. 4 and 11 at 2 p.m. Tickets ($16 for adults, $14 for seniors, $8 for students) are available through the Stephens box office or Ticketmaster.