Oct. 6, 2011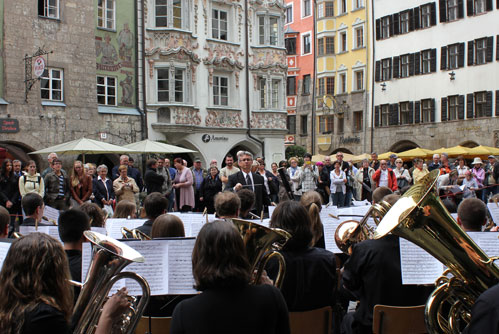 Michael Golemo conducts the ISU Wind Ensemble in May (2011) in the Innsbruck, Austria, town square. Contributed photo.
From Motown to Campustown: Five questions for Golemo
by Mike Ferlazzo
Around campus, he's a professor, department chair, director of bands and conductor of the Wind Ensemble. Dig deeper and you'll find that Michael Golemo has written hundreds of instrumental arrangements and compositions for recording artists, and played sax with Motown legends.

Golemo
What's your best known song and what was your inspiration for it?
I'm not sure anything I've composed or arranged is really well known, although I've had music performed in Carnegie Hall, in Russia and on football fields across the country. Perhaps my most memorable recent arrangement was for Simon Estes, who used it at a concert at the FIFA World Cup Soccer event last summer in Johannesburg, South Africa. I wrote the musical arrangement and hired the musicians -- all ISU students and faculty -- who recorded the soundtrack for Simon.
Composing and arranging music is rarely the product of inspiration. That's more of a 19th-century "romantic" idea. Writing music is demanding and continuous work that involves more perspiration than inspiration.
The basics
Name: Mike Golemo
Position: Director of bands; professor and chair of music Years at ISU: 13
Education: Northwestern University (B.M., 1982, M.M., 1983), Michigan State University (D.M.A., 1994)

What's your favorite memory of working with an artist on a composition?
Years ago, I was asked to write an arrangement for a jazz band that was going to feature trumpeter Wynton Marsalis. I was in communication with Wynton. We discussed the basic style of the piece, key signature, tempo, form, areas for improvisation.
The performance was tremendous. It is always gratifying to hear your work performed by a superstar musician. He enjoyed the work so much that he used it with big bands for several years.
Any memorable moments while playing sax?
I've played for a wide variety of shows and performers, including the Rockettes, the Ringling Brothers Circus, the Chicago Bears Jazz Band, Ray Charles, Natalie Cole, Red Skelton, Robert Goulet and numerous music theater productions that featured some pretty big names. I also played with a lot of the Motown acts, including the Four Tops, Spinners, and probably about 50 shows with my personal favorite, the Temptations.
I'd come home late at night from a Temptations performance and show my wife Mary Beth (Frederiksen Court community manager), some of their dance moves. That's pretty funny, if you know anything about my total lack of dancing skills.
How do you find time to fit composing and performing into your academic duties?
I've found a balance between my academic/administrative duties and my music composing and arranging. The trick is finding time on a continual basis to write. I cannot write for several days, put it away, and then return to writing. I work best when I can work on a project straight through from beginning to end. I prefer to write late at night when there are fewer distractions.
What musical projects are you working on now?
I'm working on a concert band piece that is a commission from West Marshall High School, State Center. The work will be about six to seven minutes long, and will be based on a three-note theme (think of the three pitches used in "Dancing Queen" by ABBA). I'm really looking forward to creating that work. I have a general idea of what I want to do, but the discovery process and anticipation is always exciting.
Pablo Picasso once asked fellow painter Norman Rockwell, "Out of all of your paintings, which one is your most favorite?" Rockwell replied, "The next one." As artists, I think we are always looking forward to our next composition, performance or painting.