Sept. 29, 2011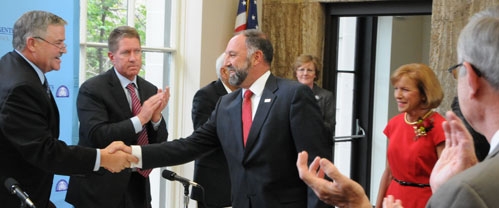 Regents Craig Lang and Bruce Rastetter congratulate Steven Leath shortly after he is announced as Iowa State's next president. Looking on is regents communicator Sheila Doyle Koppin (center), Janet Leath, and president Geoffroy. Photo by Bob Elbert.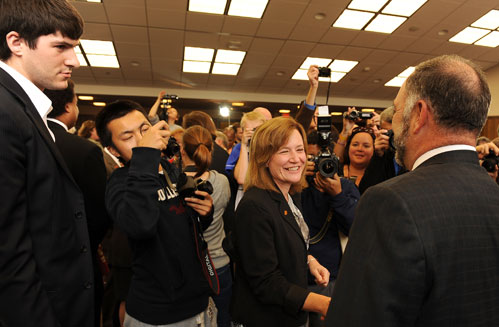 GSB president Dakota Hoben (left), vice president for extension and outreach Cathann Kress and a bevy of photographers greet Leath. Photo by Bob Elbert.
Leath will be our next president
by Anne Krapfl
Steven Leath will become Iowa State's 15th president on Feb. 1, 2012. The state Board of Regents on Tuesday announced Leath as its unanimous selection following an intensive 13-week search process.
"I'm excited to be your new president and I promise to work tirelessly to become the citizen and servant you all expect me to be," Leath said when he was introduced Tuesday afternoon. "I will need your help, and I look forward to participating in the robust shared governance process that's so in place at Iowa State University.
"I look forward to serving, and I'm proud to be a Cyclone," he said.
Leath said his first priority will be to get to know people -- faculty, staff, students, alumni and "the whole family" well.
"I'll be trying to balance the time I spend on campus, learning the campus and learning the priorities of the folks on campus, as well as going out in the state meeting our supporters there. It will be a busy start," he said.
Following Leath's introduction, president Gregory Geoffroy and his wife, Kathy, were the first people to reach Leath and his wife, Janet, to congratulate them on the appointment. Geoffroy has pledged to do all he can to make the transition to the next administration as smooth as possible.
26-year career in NC system
Leath has been vice president for research and sponsored programs for the University of North Carolina system since 2007. He's also serving this year as interim vice president for academic planning.
At North Carolina State University, Raleigh, he held several positions, including professor of plant pathology, associate dean of the College of Agriculture and Life Sciences and director of the NC Agricultural Research Service. He also was a research leader and plant pathologist with the U.S. Department of Agriculture's Agricultural Research Service; and an extension plant pathologist at University of Illinois, Urbana-Champaign.
Leath helped develop the North Carolina Research Campus, a private-public venture that fosters advancements in biotechnology, nutrition and health.
"Dr. Leath has demonstrated extensive expertise in all areas that are critical to leading Iowa State University," said Craig Lang, president of the board of regents. "His specific experience with university research and technology transfer, and their application to economic development, will be an invaluable resource in leading Iowa State and its many contributions to the state of Iowa, particularly for Iowa's bioeconomy industry."
Leath received three plant sciences degrees -- a bachelor's (1979) from The Pennsylvania State University, University Park; a master's (1981) from the University of Delaware, Newark; and a doctorate in plant pathology (1984) from the University of Illinois.
Leath's salary will be $440,000, approximately Geoffroy's current salary.