Sept. 29, 2011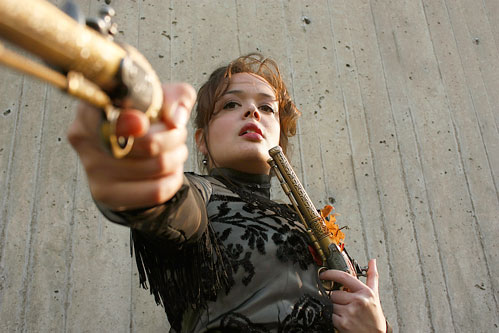 Senior Madison Welterlen plays the title character Hedda Gabler in ISU Theatre's first production of the season. The 19th-century Victorian drama opens Sept. 30 in Fisher Theater. Photo by Dan Neubauer.
Victorian drama launches new ISU Theatre season
by Erin Rosacker
ISU Theatre begins its season in dramatic style, staging Hedda Gabler for a two-weekend run in Fisher Theater, beginning Sept. 30.
Senior Madison Welterlen takes the role of the title character against the backdrop of 19th-century Norway. Gabler is a restless newlywed who is discontent in her marriage to George Tesman, played by senior Matt Meldrem.
Used to the pampered life of an aristocrat, Gabler struggles against the confines of an average Victorian existence and begins to meddle in the lives of others. Her actions have serious consequences, in which her fascination with her father's gun collection plays no small part.
"She's definitely not a villain," said Brad Dell, assistant professor of theater and the show's director. "She's bouncing around, trying to figure out what to do. She has no idea how to have interests or hobbies outside of herself and just can't find her place in the world."
Show times are 7:30 p.m. on Friday and Saturday (Sept. 30, Oct. 1, 7-8), 2:30 p.m. on Sunday (Oct. 2, 9). Tickets are $16 for adults, $14 for seniors and $8 for students, and can be purchased at the Stephens ticket office or through Ticketmaster.