Sept. 15, 2011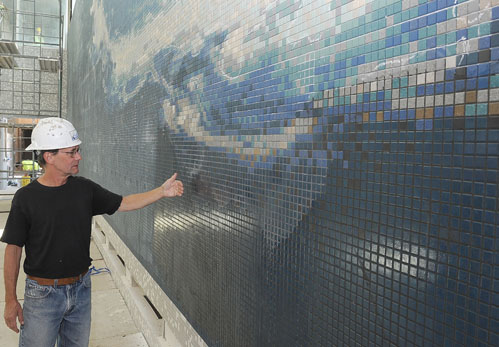 Flying underwater
Artist and ISU alumnus Eric Sealine (pictured) of Boston is on campus this week to oversee the installation and grouting of his mosaic "Learning to Fly," on the west wall of the natatorium in the State Gym addition. The mosaic of a female swimmer was installed in 18-inch by 18-inch sections. In his artist statement, Sealine recalled the day he learned to swim at about age 5 and his struggle to float on top of the water:
"I was a scared, skinny kid, blue with cold, and I resolutely sank. And then ... I took a big gulp of air, intentionally went under water and kicked off the wall. I found that I didn't have to swim, because I could fly ... underwater."
Sealine's work is part of the Iowa Art in State Buildings program which, since 1978, designates 0.5 percent of new construction or remodeling funds for public art purchases. Photo by Bob Elbert.