Sept. 15, 2011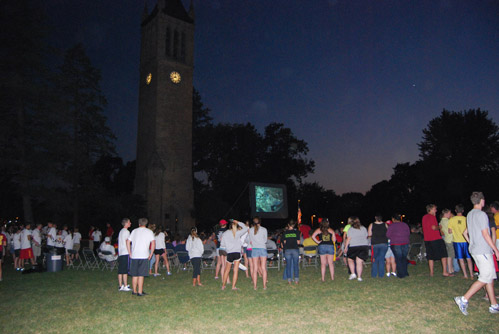 Students watch a 9/11 video while awaiting the commemorative ceremony on central campus. Photo by Diana Pounds.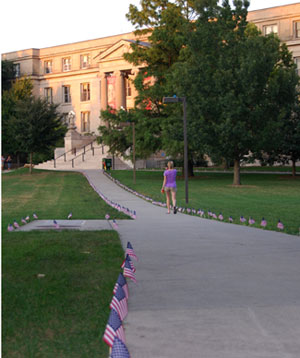 In preparation for the ceremony, student organizers put nearly 3,000 small flags around central campus pathways. Photo by Diana Pounds.
9/11 remembrance
Students and others in the community gathered around the campanile last Sunday to commemorate the 10-year anniversary of the terrorist attacks on the United States. Nearly 3,000 people died when hijackers crashed two planes into New York City's World Trade Center, a third into the Pentagon and a fourth in a rural Pennsylvania field.
After remarks by several state and local officials and shared remembrances of 9/11 from students, the community processed around the central campus green. Thousands of small flags in the ground honored those who lost their lives on Sept. 11, 2001.
ISUTV: Candlelight procession