Aug. 11, 2011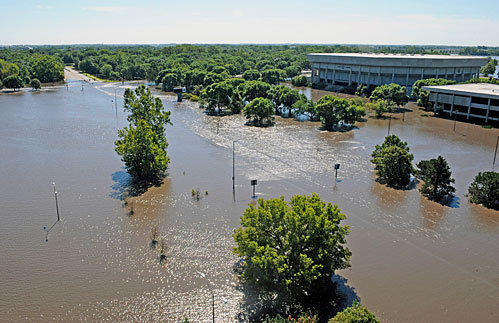 Floodwater at its peak the morning of Aug. 11, 2010, topped Lincoln Way, as viewed from the roof of Larch Residence Hall. Photo by Bob Elbert.
One year later
The latest estimate on campus damages and mitigation costs from the Aug. 11, 2010, flood is $41.5 million. Vice president for business and finance Warren Madden told the state Board of Regents last week that, so far, Iowa State has received about $6.4 million in reimbursements, primarily from insurance providers and the Federal Emergency Management Agency. Madden said the goal is to get the final cost to Iowa State inside the $4 million-$6 million range. He said employee time can be used as part of the university's match in the reimbursement formulas, so not all of the final cost needs to be cash.
Madden said working through the reimbursement process with FEMA will take some more time, but he said officials with the federal agency "generally are supporting our decisions."
"We feel really very good about where we are," Madden told board members. "If you visited our campus, you would not know we had that flood a year ago. It's the result of the work of a lot of good people."