July 28, 2011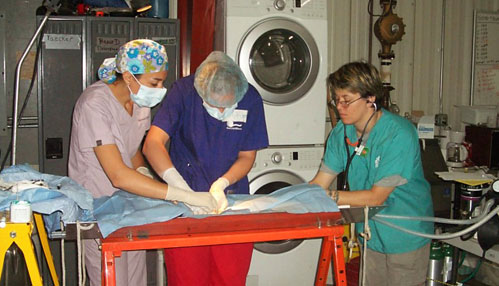 Inside the local fire station serving the Crow Creek Tribal Nation, veterinarians MeLissa Ciprich (left) and Autumn Chrouser (center) and veterinary technician Cara Yanussi work on a cat. Chrouser was back for an encore; she was an ISU veterinary student when she volunteered last year. Photo by Darci Adams.
Veterinary team's clinic on South Dakota reservation draws a crowd
by Diana Pounds
A team of ISU veterinarians and students turned a fire station on a South Dakota Indian reservation into a free clinic for a couple of days in July. The makeshift clinic was a very popular place with the people of Crow Creek Tribal Nation, some of whom waited up to four hours to get much needed treatments for their pets.
The summer clinic, now in its third year of operation, also is popular with ISU veterinary student volunteers, who get a crash course in dealing with clients and the warm satisfaction of helping several hundred pets and their owners.
"It's a wonderful experience," said Dr. MeLissa Ciprich, a faculty member who leads the summer program with colleague Dr. Joan Howard.
The volunteer veterinary team provides services to one of the poorest areas in the nation, Ciprich said. Cooperating with the tribal community and the public health sanitarian in the area, the team is able to help those who otherwise have very little access to veterinary services.
"My mentality is you help people when you help their animals," she said.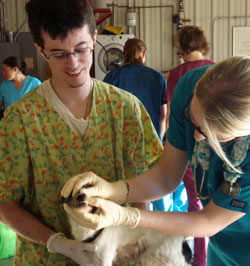 Veterinary students Uri Donnett and Nicole Jackson examine a small dog.
Two days, many patients
And help the animals, they did. The crew provided exams, vaccinations, spaying and neutering and other medical treatment to more than 300 dogs, cats and horses. They also provided information to the tribal community on diseases, such as scabies and ringworm, which can be transferred between humans and their pets.
In addition to Ciprich and Howard, the team included two South Dakota veterinarians (one from Brookings Regional Humane Society and a recent ISU grad now practicing in Sioux Falls), 12 veterinary students, several undergraduates, and a few other volunteers, including a high school student who cooked for the group.
"Everyone works together as a team," Ciprich said. "That's what makes this thing work."
Hands-on, at last
"Younger students are teamed with older students," she added, " and we try to let them do as much as possible. They draw blood samples, do skin scrapings and talk to clients."
The experience is particularly useful for young veterinary students, who don't get a lot of hands-on experience in their first three years of school, Ciprich explained.
"Hands-on is what they want and crave," she said. "If they can just look at and touch a real animal, it's very exciting."
'Awesome clinical experience'
Third-year veterinary student Nicole Jackson agreed, calling the Crow Creek clinic an "awesome clinical experience" that provided plenty of work with animals and interaction with clients.
The challenging part, she said, was mentally preparing for the long days ahead.
"You have to stay upbeat all day, to go in and work just as hard at night as you did in the morning."
The best part, she said, was the good feeling at the end of those long days.
"There were so many animals that we saw and helped that would never get veterinary attention."
Practicing with what you have
Veterinary student Nivedita Ravichandran said setting up a clinic in a fire station also was an instructive exercise.
"I got to learn how to practice veterinary medicine with as little as you have, to be innovative and creative. It was very interesting and informative for me."
Ravichandran is in her last year as a veterinary student, but says she is interested in participating in next year's Crow Creek clinic as a veterinarian.
"I will do as much as I can every year," she said. "This experience has inspired me to get involved in doing this kind of work."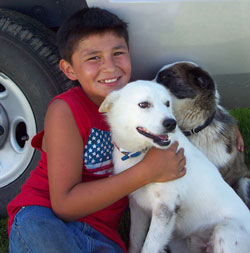 A youngster and two pets wait to see the "doc." Photo by Nicole Jackson.
How to donate
Ciprich said funding for the program was scrabbled together from a variety of sources, with donations coming from ISU's veterinary medical services department and the Student Chapter of the American Veterinary Medical Association, pharmaceutical companies Bayer and Boehringer-Ingelheim, and the volunteers themselves, who paid a portion of their lodging. Program leaders Ciprich and Howard picked up the remaining expenses out-of-pocket.
Those who wish to donate to future activities at the Crow Creek reservation can make a gift to the College of Veterinary Medicine's Companion Animal Fund. Indicate that the donation should be directed to the Crow Creek Veterinary Service Outreach Program.