July 21, 2011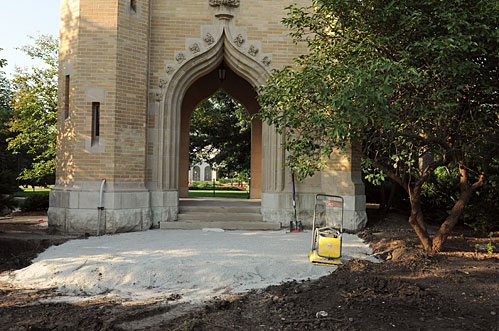 With the removal of overgrown shrubs, the Memorial Union is visible from the north side of the campanile. Photo by Bob Elbert.
New setting for a campus gem
by Erin Rosacker
Landscaping around the campanile is being improved this month, providing a better view of (arguably) the campus' most photogenic landmark. Facilities planning and management crews removed the overgrown shrubs last week and are replacing the pavement where the walkway is uneven and broken.
FPM campus landscape architect Rhonda Martin said the yews growing at the base of the campanile were at least 30 years old. They are being replaced with a selection of strategically placed canopy and understory trees, and flowering perennials such as peonies, and daylilies to add color.
"The new design will expose more of the architectural detail of the campanile, especially on the north side," Martin said.