July 7, 2011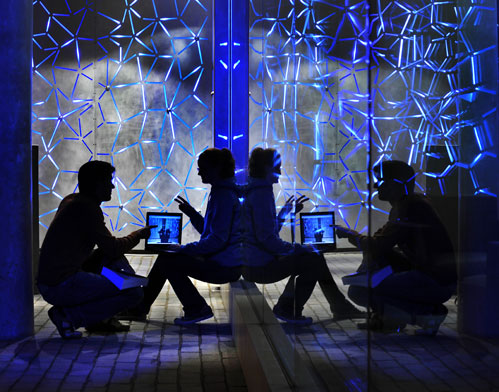 Photo by Bob Elbert.
Blue view of Hach Hall is a winner
This interesting look at the Hach Hall entryway earned university photographer Bob Elbert first place in a national contest sponsored by the University Photographers' Association of America.
Elbert's photo makes creative use of Seattle-based artist Norie Sato's sculpture "Elemental." The large sculpture, inspired by patterns in elements and molecular models, consists of glass, aluminum and LED lights in multiple panels. It can be viewed from inside or outside the northwest area of Hach Hall.
What you see
The photo above, taken in October of 2010, shows two students just outside the Hach entryway. Reflections of the students as well as the Hach interior make up the right half of the photo.
Elbert's photo garnered the top spot in the "campus environment" division of the UPAA's annual competition.