June 2, 2011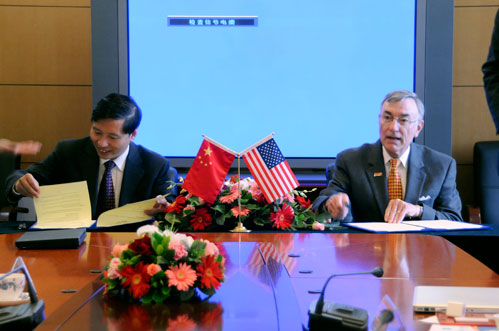 President Guo Guangsheng of Beijing University of Technology and President Gregory Geoffroy sign an agreement enhancing educational programming between Beijing's College of Architecture and Urban Planning and ISU's College of Design. Submitted photo.
ISU group explores more activities with Chinese institutions
President Gregory Geoffroy and eight other ISU officials just returned from a week in China, where they visited Chinese universities and the China Academy of Agricultural Sciences.
Geoffroy said the visit was intended to strengthen current relationships and create new ones with Chinese institutions that have agriculture, engineering, design and veterinary medicine programs. Through agreements, the institutions intend to create more opportunities for ISU students to study in China and Chinese students to come to Iowa State, and to foster faculty exchanges and joint research programs between ISU and Chinese professors.
Accompanying Geoffroy on the visit were:
Sharron Quisenberry, vice president for research and economic development
Lisa Nolan, dean of the College of Veterinary Medicine
Luis Rico-Gutierrez, dean of the College of Design
Hongwei Xin, professor of agricultural and biosystems engineering and director of the Egg Industry Center
Patrick Schnable, professor of agronomy and director of the Center for Plant Genomics
Ann Marie Fiore, professor of apparel merchandizing and design
Chiu-Shui Chan, professor of architecture
Difei Shen, program coordinator of Global Agriculture Programs, College of Agriculture and Life Sciences
The ISU delegation also met with several Iowa State alumni who live in China.