May 19, 2011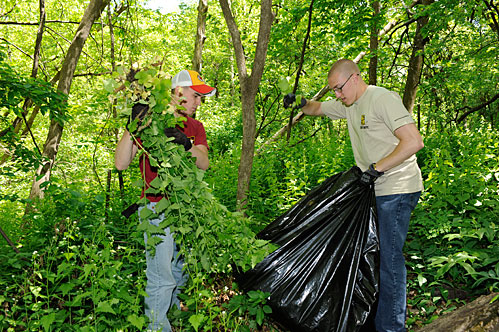 Army ROTC confronts invasion of a different kind
by Erin Rosacker
About garlic mustard
An educational video produced by the Iowa Department of Natural Resources shows the history and harmful effects of garlic mustard.
A group of ISU Army ROTC cadets spent their lunch hour weeding a portion of Pammel Woods, west of the ISU cemetery. About 25 cadets volunteered to help clear the area of invasive garlic mustard plants on Wednesday.
Garlic mustard is classified as a noxious weed in some states, and thrives in woodland areas. It can grow up to four feet tall, crowding out native plants and quickly proliferating. One of the removal methods is to hand-pull and bag the plants. Composting or discarding the plants allows the seeds to reproduce.
Rhonda Martin, landscape architect in facilities planning and management, said the woods are used as a teaching lab for many classes and the spread of garlic mustard would destroy the habitat. The Army ROTC program uses the woods for training maneuvers and tactics, and volunteered to help FP&M with manual labor projects to keep the area usable.
"We get a lot of use out of Pammel Woods and we want to give something back," said Adam Hon, a senior in interdisciplinary studies and the cadet operations officer. He said the group also has cleared trash from the woods and plans to partner with FP&M on future rehabilitation projects. Photo by Bob Elbert.