May 19, 2011
Why the fountain is dry
by Erin Rosacker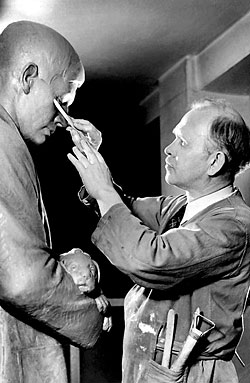 Christian Petersen at work on The Gentle Doctor. He was ISU's artist-in-residence from 1935 to 1961. Submitted photo.
The Fountain of the Four Seasons, one of the most beloved landmarks on the ISU campus, has been noticeably dry this spring. It is one of several Christian Petersen art works getting some love from fine art conservator Francis Miller this month.
Miller, the director of ConservArt in Hamden, Conn., was contracted by University Museums to do the work. He will conserve three of Petersen's fountain sculptures -- Four Seasons, Reclining Nudes and The History of Dairying -- and a selection of studio sculptures. The fountains, which also are getting some plumbing and lighting maintenance, should be operational by August.
The Reclining Nudes sculpture, which was removed from Roberts Residence Hall in the 1990s, will be reinstalled in the Anderson Sculpture Garden with Harriet Bart's Alcove. Bart's piece was removed from the exterior of Catt Hall for repair in 2009.
As part of his stay in Ames, Miller will present "Conserving a Legacy" on Thursday, May 26 (7 p.m., 2019 Morrill), to share the techniques he uses to conserve the Petersen art works. The lecture is free and open to the public.