April 14, 2011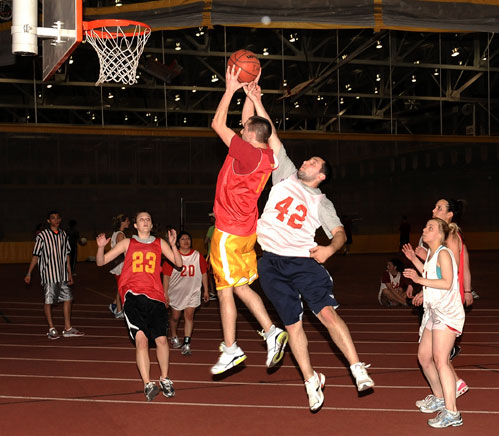 The Huber (red pinnies) and Boro teams battled it out Tuesday evening during the Veishea coed 4-on-4 basketball tournament at the Lied Center. Veishea week includes about a dozen competitive-but-fun events. Photo by Bob Elbert.
Your guide to Veishea weekend
by Annette Hacker, News Service
Iowa State's annual student-run Veishea celebration observes 89 years of tradition this week with Cyclone family favorites and an extensive entertainment lineup. Events began Monday; here are some highlights planned for the rest of the week:
Veishea favorites
Family fun underneath Cy's Big Top, canoe races on Lake LaVerne and carnival rides and games near the Molecular Biology Building will be back.
This year's "Stars Over Veishea" production is Cole Porter's classic play within a musical, Kiss Me, Kate. Remaining performances begin at 7:30 p.m. Friday and Saturday, and at 2 p.m. Sunday in Fisher Theater. Tickets are $21, or $16 for ISU students and those under 18, available at the Iowa State Center ticket office or at the door.
Woo-eee! A dinger of a grand marshal
Legendary Cyclone men's basketball coach (1980-94) Johnny Orr will return to lead the Veishea parade, starting at 10:30 a.m. on Saturday. More than 100 parade entries will wind their way through campus (starting near the Armory and ending at the east campus parking deck).
Parade-goers will notice one change this year: fewer jumbo balloons. Parade co-chair junior Wes Strohbehn said high helium prices have left him expecting just two balloon entries in the 2011 parade.
The parade can be viewed statewide on the Mediacom Connections channel (cable channel 22 in central Iowa) at 5:30 p.m. April 16. ISU staffers Mike Ferlazzo (News Service) and Marc Harding (Admissions) will anchor the telecast. Strohbehn said airtimes still are being finalized, but he expects at least four to six opportunities for viewers to watch the parade on TV, and it should be available to Mediacom customers via video on demand, too.
Veishea Village
Academic organizations and student groups will present 70 displays on central campus from 9 a.m. to 5 p.m. Saturday. They will include demonstrations by the ISU Robotics Club at Black Engineering, outdoor shows by the taekwondo and judo clubs and, as usual, lots of interactive engineering displays. Students in the ISU Game Development Competition (sponsored by a $50,000 Motorola grant) will show off their original video game designs (1-3 p.m., 0141 Pearson). Students Helping Rescue Animals will host a "Have a Heart" adoption event. And in the popular agronomy department tent, you can learn how crops are used; play in the dirt; see how water moving underground affects our wells, rivers and streams; and more (don't miss the free "soil profile" pudding cups and popcorn).
Spring football
The Cyclone football team will conclude its spring training with an intrasquad game Saturday (2 p.m., Jack Trice Stadium). Admission is free. A radio broadcast of the game will air on KASI (AM 1430).
Pancakes, cherry pies and whole lot more
A $5 button will score you a picnic lunch through Friday on central campus. The buttons also are valid for discounts at participating Ames businesses during Veishea week. Midnight pancake feeds will be held on Friday and Saturday. Taste of Veishea vendors will be located on Union Drive and near Molecular Biology Friday through 3 a.m. Sunday.
And don't forget to pick up your cherry pie -- an Iowa State tradition since 1919. Hospitality management students will make and sell 12,750 of the delectable little tarts on Friday and Saturday (7:30 a.m.-4:30 p.m. daily or until they're sold out). Pies are $1 each in 16 MacKay. Proceeds help fund scholarships.
Nearly 20 student organizations will share food favorites from their home cultures during the annual international food fair Saturday (11 a.m.-3 p.m., MU Great Hall). Admission is $3 plus the cost of food samples. To avoid lines at the door, pre-purchase your tickets Thursday or Friday (11 a.m.-2 p.m., west ticket booth, MU ground floor).
The Showoff Show
At 9 p.m. and midnight Friday on central campus (rain location: MU Great Hall), Evan Young and Jonathan Burns ("the showoffs") will guide audience members on a bizarre journey of comedy, circus-style stunts and pranks. Young, a professional juggler, and Burns, a comedian and contortionist, get the crowd in on the action as they teach them stunts to "try at home." You can preview the Lancaster, Pa., duo's show on YouTube.
Donald Glover's "I AM DONALD!" tour
Actor and comedian Donald Glover will bring his stand-up tour to Stephens Auditorium on Saturday for a free show at 9 p.m. Most recognized for his role as Troy on NBC's Community, Glover was hired as a staff writer on the hit show 30 Rock while still a resident assistant at NYU. During his time at 30 Rock, the show won two Emmys for outstanding comedy series and a Writer's Guild Award for best comedy. His first Comedy Central stand-up special aired last spring. In addition to acting, Glover raps under the moniker Childish Gambino. His latest recording, EP (extended play), was released in March.
Concerts in the Molecular Biology parking lots
Tickets for the Friday and Saturday night outdoor concerts are available to ISU students, faculty, staff and alumni. Concerts will be held rain or shine; tickets are nonrefundable. Tickets will be exchanged for wristbands at the concert venue.
Student, faculty and staff tickets are on sale at the MU Maintenance Shop from 11 a.m. to 5 p.m. Monday through Friday. From April 11 to 15, anyone with a valid university ID may purchase up to five tickets ($10 each or $15 for both nights). Night-of-concert tickets will be $10, subject to availability.
ISU alumni may purchase up to two tickets for the either of the concerts through the ISU Alumni Association. The RSVP deadline is 3 p.m. Friday.
A full schedule of Veishea events is online.