March 10, 2011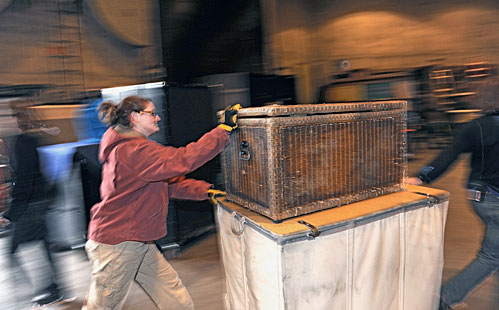 ISU student Laura Ellis, a construction engineering major, hustles to unload props from a semitrailer prior to the March 3 Fiddler on the Roof production. Ellis is part of the speedy 40-member Stephens Auditorium stagehand crew -- comprised mostly of ISU students -- that is known in theater circles for its quickness and efficiency. The crew wears many hats, from unloading equipment (like sound systems and office chairs, pictured below) to setting up lights and assisting actors with costume changes. Photos by Bob Elbert.
It's a tough job, so let the stagehands handle it
by Paula Van Brocklin
Anatomy of a stagehand crew
From Broadway to community theater, stagehand crews typically are divided into five departments: carpenters, electricians, sound, props and wardrobe. Carpenters build the scenery; electricians run the cables and put up lights; sound crews assemble speakers and amps; the props people organize objects on stage, like tables, chairs, dinner plates, etc.; and wardrobe prepares costumes and wigs (they even assist the actors with quick changes during the performances).
In addition to these responsibilities, the Stephens crew often works the night before a show, removing seats to accommodate the stage or preparing the orchestra pit for the musicians. The day of a show, the crew members perform light and sound checks. They also set up sound and lighting equipment for smaller performances. This is, of course, in addition to their load-in and load-out chores.
In addition to stage productions, the Stephens stagehand crew assists with a variety of other events, including commencement, college convocations, concerts, dance recitals and political events.
Thousands of people enjoy Broadway productions, plays and concerts at Stephens Auditorium every year. But none of those events would be possible without the rotating 40-member Stephens stagehand crew, which is regarded as one of the fastest, most efficient in the nation. That's pretty significant when you consider that Iowa State students -- with their varied and demanding schedules -- make up about 75 percent of the crew.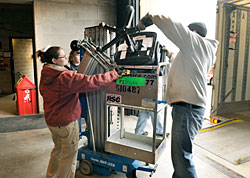 No Oscars for stagehands
There's no awards show or fancy certificate that recognizes outstanding stagehand crews. But the Stephens crew knows that it's one of the best in the nation because that's the word in theater circles. Plus, big shows continue to book at Stephens.
As part of its many varied tasks (see sidebar), the Stephens' stagehand crew unloads up to five semitrailers before big shows, like the March 3 production of Fiddler on the Roof. The crew also reloads the semis after the last curtain call. Unloading -- called the load-in -- often is a full day's work that begins at 8 a.m. Reloading after the show -- called the load-out -- starts immediately after the show's final curtain, usually around 10 p.m. On average, load-out lasts about three hours.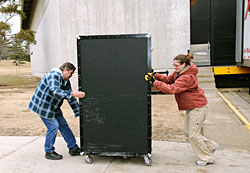 The need for speed
So what makes the Ames crew so speedy? It's a combination of things, according to Mark North, Stephens' executive director.
He credits a well-planned building design for efficient load-ins and load-outs. He said Stephens' two loading docks, which are directly behind the stage, make loading and unloading quick and smooth.
"There are some places where the semi backs up to an alley and [the stagehand crew] pushes stuff down an alley, up a ramp, into elevators and around corners. Some places are nightmares," North said. "We've got a good setup here."
He said there's a sense of pride among the crew as well. For large productions, the show usually comes with all of its necessary equipment and a road crew, which directs the Stephens crew.
"Our philosophy with shows always has been to make [the setup and tear down] as painless as possible," he said. "If the [show's people] are bored, we're happy. If they're not bored, there's a problem."