March 10, 2011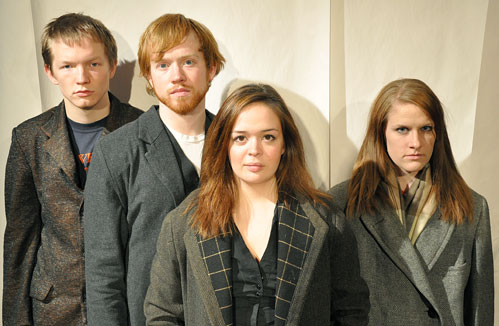 (left to right) Jeff White (the Son), Mat Wymore (the Father), Madison Welterlen (the Stepdaugher) and Brittny Rebhuhn (the Mother) play four of the six in ISU Theatre's production of Six Characters March 24-27. Photo by Nancy Thompson.
ISU Theatre takes on rarely produced play this month
by Anne Krapfl
Director Matt Foss said ISU Theatre's upcoming production, Six Characters, "lays bare the process of making a play work" in spite of human forces that might stand in the way; vanity, for example.
The ISU production is an adaptation (including work by Foss) of the 90-year-old play by Italian writer Luigi Pirandello. In it, a present-day theater team is rehearsing when it is interrupted by six related but undeveloped characters from a different time and place who, we learn, have been going from theater to theater for a very long time looking for someone to finish their story. In fact, in this version, the two youngest children in the family are so undeveloped they're merely costumes on hangers.
At first, the director doesn't believe the intruders, but they persist. While he's not a writer, he agrees to help them complete their story on his stage, to the dismay of his existing cast who are pulled into the process. The six characters' family story, it turns out, is one of abandonment and disfunctionality.
Foss, who studied Six Characters during his Ph.D. research and has performed it, said audiences enjoy the play, but theater groups don't select it very often because "it holds theater accountable." He has been working on this adaptation for ISU Theatre for nearly a year.
"We have a whole spectrum of students who are having a lot of fun with this," he said. "They have been so imaginative during our working rehearsals. I don't think it would matter if they were performing in the Memorial Union or Black Engineering," Foss said.
While Foss credits the cast with evolving as "a very strong ensemble," students in primary roles include seniors Mat Wymore as the Father, Madison Welterlen as the Stepdaughter and Caleb Woodley as the director; and juniors Jeff White as the Son and Brittny Rebhuhn as the Mother.
Performances on a bare-bones, curtainless Fisher Theater stage begin at 7:30 p.m. Thursday-Saturday, March 24-26, and at 2 p.m. Sunday, March 27. Tickets are $15 (seniors $13, students $8) and available through Ticketmaster, the Stephens ticket office or at the door.