Jan. 20, 2011
Tweet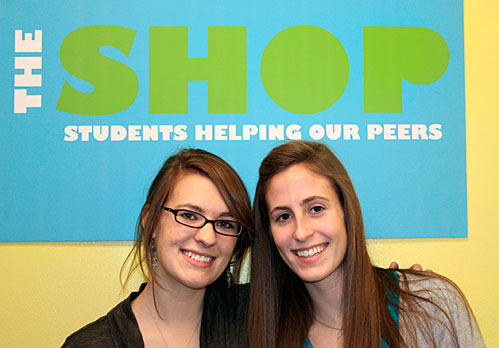 Dietetics majors Sarah Schwanebeck (left) and Hailey Boudreau are co-presidents of the new SHOP student organization which will oversee a campus food pantry for students. Photo by Breanna Wetzler.
Students launch campus food pantry for students
by Anne Krapfl
A fall semester learning community project to look at food assistance needs in the Ames community has evolved into what its planners hope is a long-term program: an on-campus food pantry for students, run by students.
The SHOP (Students Helping Our Peers) opens Feb. 1 in room 2616 in the northeast part of the Food Sciences Building (PDF). Initially, service hours will be 3-6 p.m. on Tuesdays; those could increase depending on need and use.
The university community is invited to donate non-perishable food items during an open house at the shop Jan. 27 (3-6 p.m.). Bring four items to the open house and receive a T-shirt.
The SHOP will have collection boxes on campus for nonperishable food donations.
Student org status
Between 20 and 30 students have joined the new student organization that will oversee the shop. Sophomore Hailey Boudreau and junior Sarah Schwanebeck, both dietetics majors, are co-presidents of the SHOP student organization. They were members last fall of a food science and human nutrition learning community that volunteered at local food pantries and free meal programs to learn more about who's using them -- and who's not. They learned that college students are not using food assistance programs in noticeable numbers.
But in checking with student financial aid leaders at Iowa State, they learned that the number of Pell grant recipients (federal, need-based financial aid) at Iowa State rose from about 4,300 in 2008-09 to 5,300 in 2009-10. They believe the need exists for a food pantry, and they contacted student pantries at other universities, including Michigan State and University of California, Los Angeles, to find out how they operate.
Clients remain anonymous
Unlike some of those schools, Iowa State's food pantry will allow anonymity. Iowa State students need only show their ID card to receive food. Boudreau said volunteers will track what food items are most popular with clients, but they won't track who's taking what.
"We did some research on the stigma attached to using a food pantry," she said. "We want students to utilize the service, and we think allowing them to remain anonymous will encourage that."
Donations welcome
The pantry will be stocked with donations, either food or cash used to purchase inventory options. Boudreau said organizers would be grateful for donations from faculty and staff. She said they'd also appreciate help in spreading the word about the pantry -- to would-be student clients as well as would-be student volunteers.
SHOP organizers also struck a deal with ISU Dining for spring semester, in which students with meal plans can skip a meal on Thursdays and donate the proceeds to the pantry.
A healthy options pantry
Schwanebeck said student organizers are particularly interested in stocking the pantry shelves with healthy options -- peanut butter, tuna, canned fruit, whole grain cereals -- and hope to offer recipes that feature items from their inventory. Those making donations are invited to submit recipes as well.