Sept. 23, 2010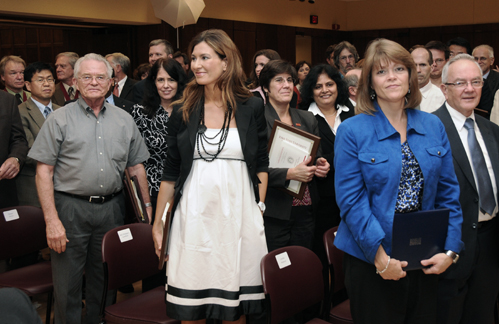 More than 60 faculty and staff were honored during the Sept. 20 convocation and awards ceremony. Photo by Bob Elbert.
Flood recovery, salary increases, Campustown revival on the agenda
by Diana Pounds
President Gregory Geoffroy's Sept. 20 convocation address to faculty and staff was part status report ("where we stand right now") and part to-do list ("important items on our agenda"). Here are highlights of the president's comments on a variety of issues:
Flood recovery
Devastating flooding on campus in August "was bad, but it could have been much worse if it had not been for the good work of many people." Flood cleanup and damage assessment is nearly complete and ISU officials are working with FEMA (Federal Emergency Management Agency) and insurance carriers to begin restoring facilities.
"We anticipate that most of the expenses will be covered in some combination by insurance and by FEMA, along with many in-kind contributions from the university."
"I want to re-emphasize that, in spite of the budget challenges and the difficulties they cause us, as we move ahead we absolutely have to keep a sharp focus on excellence (never lose sight of that) and on having a very high impact in everything we do. We must continue to focus on being a truly outstanding university, even though we have fewer resources to work with to achieve that."
President Geoffroy
Record enrollments
ISU's record 28,682 students is due to increased enrollment of out-of-state students. However, Iowa State also continues to enroll more Iowa high school graduates and more Iowa community college transfers than any other university.
Iowa State must continue to provide a strong student-centered education. Student recruitment efforts require continued focus in light of declining numbers of high school graduates in the upper Midwest.
Sponsored success story
Iowa State's 27 percent increase in sponsored funding, to a record $388 million, is a great success story. Special federal stimulus funds helped, but accounted for only about a quarter of the growth.
"The rest is simply due to the great work of our faculty and staff in competing so successfully for those funds."
Alumni-strong
Nineteen percent of all living alumni belong to the ISU Alumni Association. "Nineteen percent may not sound like a big number, but in the world of alumni associations, that's a very big membership."
Campaign nears the mark
With "exceptionally strong support from alumni and friends," the university is closing in on the $800 million goal of "Campaign Iowa State: With Pride and Purpose." The tally stands at $794 million with 10 months left in the campaign. The goal of doubling the number of endowed faculty positions to 150 already has been reached.
Decline in ISU's share of state tax revenues
Since 2000, Iowa State's share of state tax revenue has declined 41 percent. The decline results from state elected leaders giving higher priority to other state funding needs, such as transportation, health care, public safety, K-12 education and community colleges.
A priority this year will be to convince elected leaders of "how essential it is for Iowa to have strong public universities if Iowa is to be a strong competitor in a global economy."
Facing budget realities
"We do have to face the realities and adjust to the decreased funding that has been dealt us and follow through on the budget adjustment plans that have been developed by our colleges and other university units in response to the state funding cuts. Nearly all of those plans involve a progressive, phased budget reduction that will take one or more years to see through to completion."
Salary increases a priority
"After two years of essentially frozen salaries, we simply have to find some way to give a reasonable salary increase for the next year. It's far too early to know what level that will be or the funding sources, but we simply have to make it a top priority as we do the budget planning."
Transforming Campustown
Rejuvenating Campustown is the goal of a cooperative effort involving Iowa State, the city of Ames, and the LANE4 Property Group, a Kansas City developer hired by the city. Reports from the developers will be presented to the Ames City Council and other groups in the coming weeks.
"This will be a major priority for me and for the university leadership team this year, as it really is an almost once-in-a-lifetime opportunity to make a significant difference in a key part of our community that impacts all of us and especially our students."
Filling leadership vacancies
Two important vacancies to fill this year are the dean of the College of Veterinary Medicine (finalists will be on campus for interviews over the next few weeks) and the vice president for extension and outreach.
Winners
Competitive success in athletics included: ISU's highest-ever ranking (34) in the Learfield Sports Director's Cup, wrestling's third-place national team finish and two individual champions, an Insight Bowl football victory, Sweet Sixteen berths for women's basketball and volleyball, and great track and cross country seasons capped by Lisa Koll's three championships.
Academic success included a near 80 percent graduation rate for Cyclone student-athletes, the highest in the Big 12, and No. 7 among the 95 schools in the six BCS conferences.
Slide show