July 1, 2010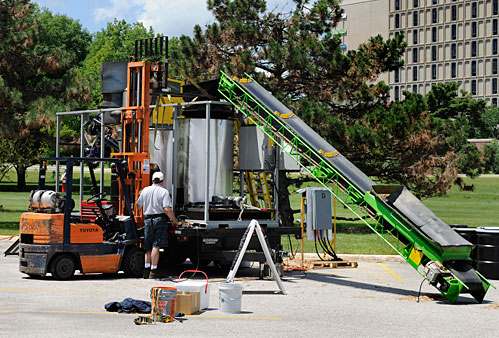 New benefits of an old practice
More than 250 people attended the U.S. Biochar Initiative Conference this week at the Iowa State Center. In its second year, the conference brought together global specialists from many fields to discuss the technology, science and policy of biochar.
Like charcoal, which is produced by burning wood, biochar is the decomposed residue left after burning -- via thermochemistry, not fire -- organic materials, such as switchgrass and corn stover. As an amendment to soil, biochar aids in nutrient and water retention, reduces acidicy and density, and increases helpful microbes. As an added green bonus, applying biochar to soil is an excellent way to "sequester" carbon which releases carbon back into the environment very slowly over hundreds (or thousands) of years. Pictured above is one of two companies that demonstrated the process in the Scheman parking lot.
Conference participants enjoyed more than three days of lectures, discussions, demonstrations and exhibits. Tours were conducted at ISU's BioCentury Research Farm and neighboring biochar field plots.
ISU's Bioeconomy Institute, which boasts more than 160 affiliated faculty, helped organize and run the event. Photo by Bob Elbert.