June 24, 2010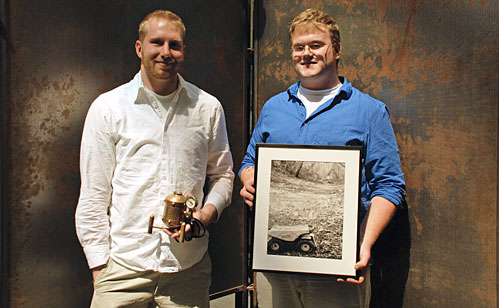 Brian Dreesman (left) and Ryan Gibson are among eight College of Design alumni participating in the Des Moines Arts Festival this weekend as Emerging Iowa Artists. Photo by Alison Weidemann.
An Iowa State presence at the Des Moines Arts Festival this weekend
by Heather Sauer, Design Communications
Eight recent Iowa State art graduates will exhibit their work as Emerging Iowa Artists at the Des Moines Arts Festival, June 25-27 in downtown Des Moines' Western Gateway Park. Festival hours are Friday 4-10 p.m., Saturday 10 a.m.-10 p.m. and Sunday 10 a.m.-5 p.m.
Two other Design alumni -- Andrew Kopp, who received a bachelor of fine arts degree in integrated studio arts in 2009, and Chris Vance, who received a BFA in visual studies in 2000 -- are among the 185 professional artists selected to participate in the festival.
In its eighth year, the Emerging Iowa Artists program gives 24 young artists the chance to showcase their talent at one of the country's top arts festivals. The Des Moines event annually attracts more than 200,000 visitors.
The same jury that selects artists for the professional divisions selects the emerging artists. This weekend, the awards jury will present a $1,000 Best of Show award to the best student artist.
ISU's emerging artists, all of whom received BFA degrees in integrated studio arts, are:
2010 graduates Brian Dreesman, Waukee; and Ryan Gibson, Ames
2009 graduates Andrew Clarridge, Story City; Jon Lemons, Waukee; Amy McAfee, Ames; Julie Solberg, Eagan, Minn.; and Christian Vandehaar, Altoona
2008 graduate Fumi Ikeshima, Ames
A great opportunity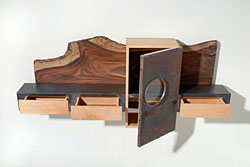 Mediation, by ISU alumnus Brian Dreesman, features Indian rosewood, hard maple, steel, fire safe glass and found objects. Dimensions: 45"x24"x11". Photo by George Ensley.
For Dreesman, "being accepted into the Emerging Iowa Artists is great. I'm not necessarily thinking I'll sell a lot of work, but it's a great opportunity to get my name out there, make contacts and maybe receive some orders for commissioned pieces."
"It's a real confidence booster," Gibson said. "This is a very competitive show, so to be just coming out of college and be able to network with other artists and build name recognition among the public is a big stepping stone."
Dreesman will exhibit wood and metal furniture, such as lamps and coffee tables, and some small-scale metal work, including sculptures, rings and pendants. He often uses found objects to help tell a story with his work.
"A lot of my work relates to the juxtaposition of natural and mechanical qualities, the contrast of wood against metal or found objects against the sleekness of the woods and metals," he said. "I try to keep the design simple but use an element that gives each piece a narrative."
For example, he recently created a couple of small rings and pendants with glass he found on the street, and another piece with an old meter socket cover from an electrical feed to a house.
Gibson will display both traditional black-and-white and color digital photography featuring landscapes and architectural elements "with very little manipulation."
"I try to work with what is already there to create a composition and draw attention to something," Gibson said. "I take my camera and wander until I find something interesting, then move around it until it creates a composition in the window.
"Most of my work is this kind of 'found composition,'" he continued. "I just observe and try to use the camera to show something in a way that hasn't been seen a million times before."