June 17, 2010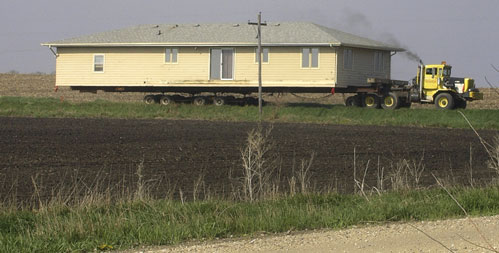 En route to the dairy farm. Photo by farm superintendent Tim Goode.
Old house gets a new farm
by Diana Pounds
A Madrid-area farm house that appeared destined for destruction has a new lease on life at Iowa State's dairy farm.
The 70s-era ranch house was home to a longtime tenant on a farm owned by the Committee for Agricultural Development (CAD), an ISU affiliate that produces seed originating from university research. When the tenant recently moved, officials considered tearing down the house, which needed considerable repairs.
Nine miles down the road, dairy farm officials needed a residence for an on-farm manager. Del Koch, executive director of CAD, and Mark Honeyman, animal science professor and coordinator of ISU research farms, started talking, and in late April, the old ranch house was atop a semitrailer en route to the new farm.
Several shades of green
It's a green move in more ways than one. Honeyman estimates it would have cost some $200,000 to build a modular home at the dairy farm. Pouring a basement, moving and renovating the old home will cost about $140,000, leaving $60,000 in savings. An added bonus is the old house's 2-car attached garage, something that was not in construction plans for a new home.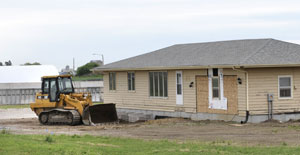 Atop a new basement, the house awaits renovations.
Photo by Bob Elbert.
ISU has something of a legacy of moving houses, Honeyman said. There used to be lots of residences on campus and through the years, many were relocated.
"We can't throw anything out," he said.