May 13, 2010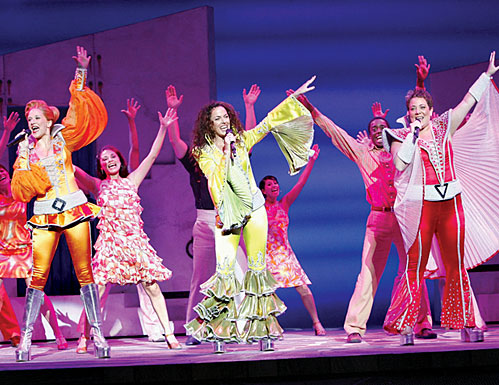 The stage version of Mama Mia! is one of the shows coming to Stephens Auditorium during the 2010-11 season. Submitted photo.
Watch, hear show snippets during Stephens preview event May 18
by Anne Krapfl
The Iowa State Center announced its 2010-11 performing arts series last week, and will host a lunch-hour preview of it May 18 (noon-1 p.m., Memorial Union Cardinal Room). Bring your lunch with you if you like; cookies and lemonade will be provided. Attendees will see and hear segments of all 17 series shows in about 30 minutes. Some highlights include the musicals Fiddler on the Rooffand Mama Mia!; theatrical performances of Spring Awakening and Bus Stop; a wide range of music ensembles; and solo performances by humor writer David Sedaris and Patrick Combs, the California-based writer/professional speaker who successfully deposited in his bank account a $95,000 junk mail check.
"In a short time, we'll give people an inside look at each show and the type of show it is," said Angela Ossian, director of marketing for the center. "This is the first time we've tried a preview DVD. We'd like to make it easy for people to get the scoop on all these great shows."
The preview is open to the public and especially ISU staff, faculty and students. Door prizes will be awarded at the end of the hour.
Tickets on sale now
"Subscription" tickets -- advance tickets for three or more events in the 2010-11 series -- are on sale now. Tickets to single events go on sale July 12. Ticket information (PDF), including pricing and seating, is online.