May 13, 2010
Reiman Gardens expands its "decorate a gnome" project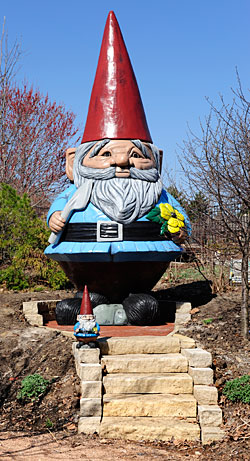 A small replica gnome is pictured next to the 15-foot original at Reiman Gardens. Gardens staff hopes to expand the replica project to more than 100 personalized gnomes. Photo by Bob Elbert.
As part of a successful gnome exhibition that opened last month, Reiman Gardens staff has decided to expand the "decorate a gnome" project. About 75 more of the smaller gnomes could be added to the 23 already in place. They support the world's tallest concrete gnome, a 15-foot fellow commissioned this spring by Reiman Gardens and located in the southwest corner of the gardens. The first 23 gnomes were sent to area schools, organizations and businesses for personalized decoration and are on display throughout the gardens' 14 acres. They include a gnome balancing on a surfboard, a "Harley" gnome sporting goggles and a bandana around his pointed hat, and a gardening gnome wearing Crocs.
Artists wanted
Other schools, groups or individuals who would like to paint or decorate a gnome to add to the collection should contact gnome coordinator Diana Wright, 4-2444, gnomeheadquarters@iastate.edu. Because they're 3 feet high and 60 pounds (too heavy to ship), the unpainted gnomes need to be picked up at and returned to Reiman Gardens. The preferred deadline to have decorated gnomes returned is June 15.
Some of these additional gnomes will be used to create "Gnome Mountain" on the grassy hill at the south end of the gardens. Kids will be encouraged to spot the different gnomes along the winding path to the top of the knoll.
World attention
After a Des Moines TV station included a glimpse of the giant gnome on its Friday night news, within three days the footage was shared on 70 TV stations from Honolulu to Maine, and from there across Europe on BBC World News. Gardens director Teresa McLaughlin said the international exposure is what compelled garden staff to expand the gnome exhibit.