May 6, 2010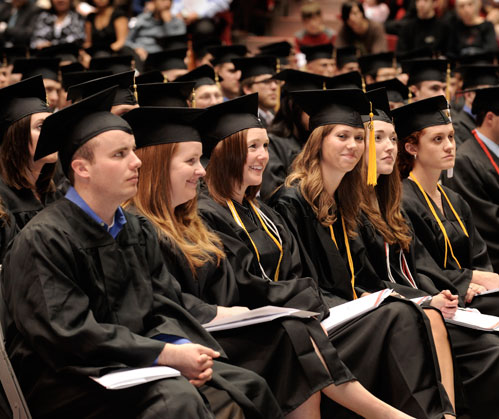 Photo by Bob Elbert.
More than 3,300 will complete degrees this week
by Anne Krapfl
Reminder: No summer ceremony
This summer is the first year Iowa State will not hold a commencement ceremony at the end of summer term in early August. Students expecting to complete degrees this summer have been invited to participate in either the May or December graduation events.
An estimated 3,306 students will receive degrees from Iowa State at the end of spring semester and many of them will participate in a graduation ceremony this weekend.
An estimated 101 doctoral and 319 master's students will be honored at the graduate commencement Friday, May 7. It begins at 7:30 p.m. in Stephens Auditorium. John Schuh, Distinguished Professor in Education and chair and professor of educational leadership and policy studies, will give the address.
At noon Saturday, May 8, in the same location, 120 students will receive their doctor of veterinary medicine (DVM) degrees. John Thomson, who will step down from the Vet Med dean's post at the end of the calendar year, will address the graduates.
And an estimated 2,766 students will receive their bachelor's degrees during the undergraduate ceremony at 1:30 p.m. Saturday in Hilton Coliseum. This event will be live video streamed on the ISU registrar's website. Tickets are not needed for any of the ceremonies.
Honorary degree recipients

Rich
Iowa State will confer two honorary degrees at Saturday's undergraduate ceremony. Alumnus and chemist Jonathan Rich will receive an honorary doctor of science degree and give the address. Rich is being honored for scientific contributions to the chemical industry (including a new way to produce silicone polymers) and for his advocacy of shared public-private investment in research.
Since 2007, Rich has served as president and CEO of Momentive Performance Materials, Albany, N.Y., with R&D or production facilities in 30 countries. Momentive is the world's second largest producer of silicone-based products. He also held research and management positions with GE Silicones and Goodyear Tire and Rubber Co. From 2002 to 2007, he served as president of Goodyear's North American Tire unit and board chairman of Goodyear Dunlop Tires North America.
Rich received a B.S. in chemistry from Iowa State in 1977.

Brock
Former Ford Motor Co. and John Deere engineer Harold Brock, Waterloo, also will receive an honorary doctor of science degree. Brock is being honored for leadership in designing tractors that helped spur the transformation of agriculture and food production in the mid-20th century and, since his 1972 retirement from industry, his contributions to education, particularly the development of Hawkeye Community College in Waterloo, of which he was a founding board member. The campus' Brock Student Center, completed in 2008, is named for him.
In the late 1930s, Brock took Ford's revolutionary 9N tractor, with the first three-point hitch system, from conception to production. Today, every tractor manufacturer in the world uses this system, designed by inventor Harry Ferguson. During WWII, Brock worked on Ford's M3 and M4 Sherman tanks and the Ford-Willys Jeep. As director of tractor research at Deere's Waterloo Tractor Works, he headed the group that designed the Deere 4020 tractor in the early 1960s. This tractor reportedly is the most copied tractor in history.
College events
Iowa State's seven undergraduate colleges will honor their graduates during convocations or receptions Friday evening or Saturday morning. A complete list of commencement events is online on the registrar's website.